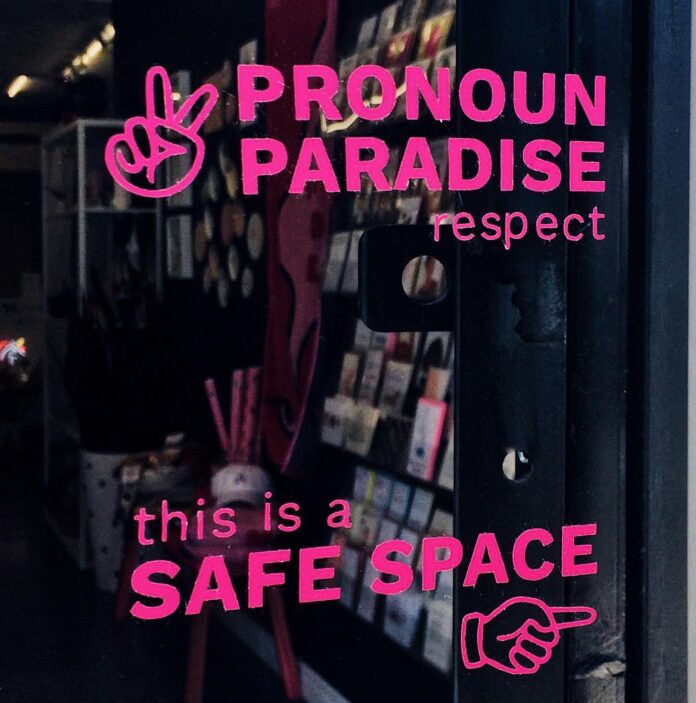 As Dundas West Fest gears up this weekend, it will be the last time to stock up on gifts at TKVO, Toronto's queer gift shop for feminist killjoys and misanthropes with a sense of humour.
Last month, TKVO, which was located in the heart of the Dundas West neighbourhood (1450 Dundas Street West) for the past four years, announced they'd be closing their doors. The shop, whose acronym stands for "to keep vein open," was an inclusive and safe space owned and operated by queer and trans folks. Their motto was that they were "a retail shop, a lifestyle, and a state of mind." The TKVO team ensured that they respected pronouns, created meaningful dialogue, supported the LGBTQ+ communities, and showcased works from queer makers.
Not only could you buy amazing, unique gifts and apparel (my personal faves included keychains that said "Good Witch" and "Bad Witch," and their Super Queer Bandana), but they teamed up with other queer businesses. They operated a tattoo shop called The Outcast Club, offered tarot readings from reader extraordinaire Qveen of Swords, and featured the program BindersOUT that gave trans and non-binary folks access to affordable binders for chest binding.
Now, you can say your final goodbyes to TKVO (I'm not crying, you're crying) at their storefront during Dundas West Fest, a street festival that celebrates arts, music and community. The summer festival covers 12 city blocks in Toronto, along Dundas Street West, from Ossington Street to Lansdowne Avenue. Local businesses participate in the festival, more than 200 local vendors and 40 licensed patios. The event will take place on June 7 from 6 pm – 10 pm, and June 8 from 11 am – 10 pm.
TKVO will be offering 50% off all their popular, locally made queer and feminist goods. There will also be tarot readings available from Qveen of Swords alongside the TKVO booth.
It will be your last chance to support a wonderful organization that was valued and loved in the queer community and will be greatly missed.