Reading Time:

2

minutes
'Twas the month before Christmas, when all through the oven;
Cocoa cookies were baking, dozen by dozen.
Visions of sugar plums may paint a pretty picture, but when it comes to crowd pleasing desserts the whole family will love, you can never go wrong with chocolate. And these cookies have plenty of that. Chocolate and chia seeds! A healthy vegan dessert to make your days merry and bright.
Ingredients
1 ½ cup gluten-free flour
½ cup sugar
½ cup melted coconut oil  
¼ cup cocoa powder
2 tbsp chia seeds + 3 tbsp water
1 tsp vanilla extract
1 tsp baking soda
1 dark chocolate bar chopped small
a pinch of salt, a dash of cinnamon and a sprinkle of espresso powder (if you wish)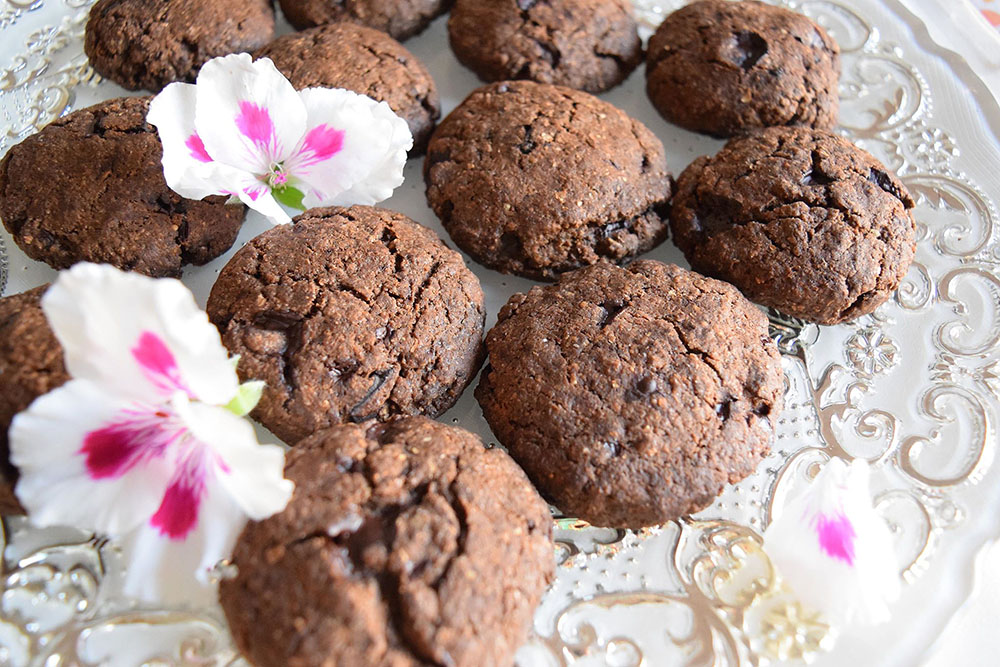 Instructions
Preheat your oven to 350˚F and grab a baking tray. Line with a sheet of parchment paper, then set it to the side.
First, lets prepare the eggs. The vegan egg substitute that is! In a small bowl, mix the chia seeds and water. Stir them and let the ingredients sit for at least 5-10 minutes. When the seeds absorb the water, they will thicken and become your binding agent – much like an egg.
While you wait, grab your chocolate bar and chop it up! The smaller the pieces, the better. You can leave these on the side for now.
In a large bowl, combine the flour, sugar, cocoa powder, baking soda, salt, cinnamon and espresso powder (if you are using it). Mix the ingredients well.
Next, melt the coconut oil in the microwave and measure out half a cup. Add the melted oil and vanilla extract to the dry ingredients and stir! Throw in the chia seed/ water 'egg' as well as the chopped chocolate bar, and blend all ingredients ensuring there is no dry dough.
Once the dough is ready, use a tablespoon to form small balls and place them on the baking tray. Press them down with your fingers or a spoon, so they look like petite pancakes.
Place them in the oven and bake for 15 minutes, checking in on them periodically.
Enjoy them warm with a cup of cheer. Happy holidays and Bon Appetite!
For more tasty recipes, follow the links below
Decadent Dark Chocolate Vegan Muffins
Tis the Season for Apples: The Ultimate Apple Oatmeal