Reading Time:

4

minutes
CBD oil has become one of the most significant trends in the last several years. You can see plenty of people vaping it through marijuana pen, taking it as pills, or using it as cream. Although there are plenty of testimonials online from people who claim that it helped them improve their overall health, not every CBD oil product is the same. That's why you should be careful when choosing a CBD product. To help you out with that, here are the top 7 tips for choosing the right CBD oil.
Decide Upon the Product Type
The first thing you should know before buying a CBD oil is the type of the product. There are several types of CBD products, including capsules, tinctures, creams, lip balms, and e-juices. You can vape through a dab pen or another vape device. So, you need to decide which product you want or need. That depends on what you will use it for and the time of acting.
For instance, if you have joint pain, which is a result of arthritis, you can use cream, capsules, or tinctures. Out of these three, you should go for either tinctures or cream because the pills will take more time to affect the painful spot. Moreover, they have to pass through the digestive system and get metabolized before getting into the bloodstream. On the other hand, the tinctures and the cream will have an almost immediate effect because the body directly absorbs them.
Check the Country of Origin
Although cannabis can be grown everywhere, it doesn't mean that it will grow in the right conditions. This is because not every country has legalized marijuana growing. Therefore, in states where producing it is illegal, it's possible to be grown in unhealthy and polluted soil full of pesticides, toxins, and other harmful chemicals. That's why you should always check the country of origin and choose a product which derives from a cannabis plant grown in the USA or other states where growing it is legalized, and it follows specific quality standards.
Check the Manufacturer
Since the cannabis market became a great business, a lot of companies started producing CBD oil. But, that doesn't mean that all of them offer a quality and safe product(s). To choose a quality product, you should buy only from trusted manufacturers. You can identify which company is reliable by checking out their website, social profiles, and reading customers' reviews. All of these things will tell you whether or not the company is good, reliable, and that their product(s) are safe and of good quality when choosing the right CBD oil for yourself.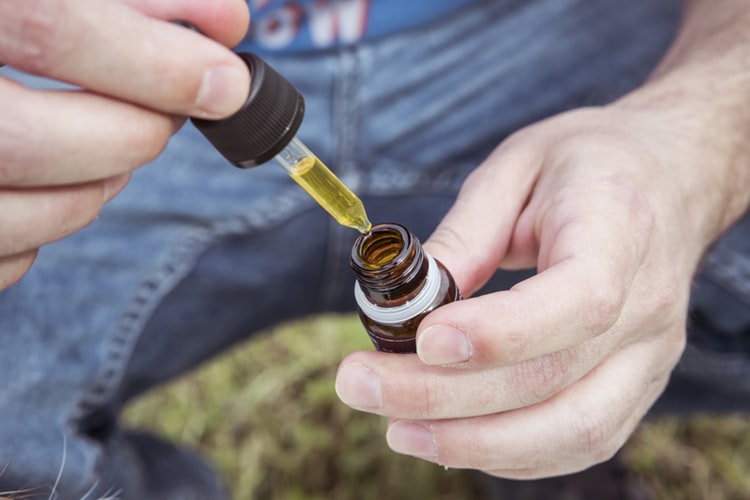 Check the Label
The label contains all the information regarding the contents of a product. When reading the label, you should check the THC content and the ingredients found in the product when choosing the right CBD oil. In terms of THC, you should choose a product that has a maximum of 0.3% of it or not at all. When it comes to the other ingredients, you should look for the plant the product derives from (marijuana or industrial hemp), melatonin, MCT, as well as some harmful ingredients such as vegetable glycerin and propylene glycol.
Look for a Certificate of Analysis
Certificate of Analysis is a report from an independent, third-party lab which confirms that all the contents found on the label, as well as their amount, are accurate. It's a sort of guarantee that you buy something that has been checked and verified by a reliable company. Therefore, you should always choose a CBD product that has a Certificate of Analysis enclosed in it.
Check the Extraction Method
The CBD oil can be extracted from a cannabis plant via CO2, olive oil, dry ice, or solvent-based extraction method. But, they are not equally excellent and safe nor give a quality product. As it's known, CO2 is the best method that produces a potent and pure oil that is safe to use. The olive oil and dry ice methods are OK, though not as good as the CO2 method. But the solvent-based way is the worst of all because it uses harmful substances, which can negatively affect your body.
Choose Between Full-Spectrum or CBD-Isolate
The difference between them is that full-spectrum CBD oil contains all the contents, including cannabinoids, flavonoids, terpenes, omega fatty acids, and the others found in the cannabis plant. In this way, it provides the user with an entourage effect, which means that all contents work together to give the best outcome and maximum result.
The CBD isolate, on the other hand, contains only one cannabinoid. This means that it's not a potent as the full-spectrum type. However, this type doesn't contain THC, which makes it great for those who don't want to have THC content at all.
Read More: