Reading Time:

6

minutes
The competitive beauty market considers cannabis beauty products as the most powerful anti-aging medical breakthrough in the beauty industry. 
The buzz these days is the promise of beauty in a jar, cannabis topical can do a lot of good to skincare. The cannabinoid elements contain antimicrobial, anti-inflammatory, and anti-aging properties that perform wonders to your complexion.
Aside from its role as a health promoter, boomers and over are seeking cannabis and anti-aging products to slow down the effects of aging. Topical regulate dry skin and neutralize the effects of skin disorders.
Cannabis and Anti-Aging
As we age, the wrinkles show up, skin dries, memory slips, and the 1-kilometer run becomes a crawl. But science has shown that cannabis beauty products as the most anti-aging properties help to control the aging process, except the years, of course, allowing us to enjoy the moments of growing older.
Cannabis and Skin Health
Let's face it. Everybody gets old, making us feel insecure about how our face and skin look. Although we cannot stop the aging process, we can at least slow it down with the use of natural cures.
Our body has free radicals that damage skin cells resulting in wrinkles and dry skin. Cannabis and anti-aging properties are rich in antioxidants, THC and CBD, that fight free radicals reducing wrinkles and rejuvenates the skin.
No wonder cannabis-infused topical is fast becoming famous as one of the skincare tips among older women.
Cannabis and Mental Functions
Aside from the skin, our mental health also declines as we age. But recent studies show that cannabis and anti-aging qualities can help the brain from deteriorating. The experiment which was administered to older mice was shifted to men over 50 with cognitive impairment. Clinical researches are now focused on studying the effects of cannabis on the human brain and, hopefully, a cure soon.
Cannabis and Edibles
Edibles are another way of getting marijuana into your body and enjoy the benefits of its properties. Before ingesting cannabis edibles and diet consult with your doctor to be safe. They will provide you with a beginner's guide to cannabis edibles so you won't get overboard.
Cannabis-infused drinks can be easily absorbed by the bloodstream, which makes you faster. Start your day on a high note with cannabis-infused coffee made from fancy coffee and excellent cannabis oil.
Think of pot-infused honey as a sweetener for your gourmet dishes, or simply stir it into your hot cup of joe or tea.
Budding chefs can use cannabis olive oil recipes in prepping food, turning simple dishes into a feast.
The Benefits of Cannabis on Skin Care
The beauty industry joined the bandwagon in the cannabis boom. Cosmetic products are popping like mushrooms showing the benefits of CBD skincare, treating skin conditions from laugh lines to acne, and anything in between. Beauty wares are by-products that were derived from the benefits of CBD oil, which is the non-psychoactive component in cannabis.
Choosing the right CBD oil is also essential; people often mistake this for hemp oil, which has little amounts of CBD. Look for the FDA-regulated name which is cannabidiol (CBD) on the label.
There are many reasons why women are using CBD products for their skincare; here are some of them.
Helps with Skin Irritation
The cannabinoids in marijuana have anti-inflammatory, antimicrobial, and anti-itch properties. When cannabis is applied topically to insect bites, scratches, and other skin irritants, there is relief from pain, and the swelling is reduced. For more severe cases like eczema, the itchiness and appearance are scaled-down.
Combats Acne
Acne is a skin condition identified with painful lumps beneath the skin; sometimes, it has pus—one of the common pregnancy skincare problems among women. The calming effects of CBD ease the pain and make the skin feel better; the anti-inflammatory property reduces swelling and relaxes the surface, and the anti-bacterial quality deals with the bacterial infection.
Acts as a Protective Shield
Cannabis has vitamins A and D and fatty acids which protect the exterior part of your skin for a healthy and glowing look. The elements will shield you from the UV rays, smoke, and other toxins.
The Impact of Cannabis on Aging
Gone were the days when cannabis was used for its psychoactive or high effect. Now researches are focused on reversing age-related declines such as memory issues, learning deficiency, and cognitive impairment.
The active components in cannabis and anti-aging qualities reveal different effects to baby boomers and over than younger people.
Animal Findings
Since the legalization of cannabis, the facts about cannabis plants have been surfacing. Studies suggest that cannabis and anti-aging properties can turn the clock back on the aged brain.
Cannabis was applied to mice; older mice with signs of memory loss were treated with low quantities of THC. After treatment, there was an improvement in the learning and cognitive rate that could be seen in younger mice. In contrast, the mice who were given placebos displayed continuous age-related declines that are normal for their age.
Human Studies
Studies of cannabis and anti-aging properties in humans are small in size. It cannot be considered to give a definite conclusion on the effect of cannabis in reversing brain aging problems.
Some people escape from the stress and anxiety of daily life through meditation. Try using marijuana for meditation sessions; it will get you quickly into the zone.
Cannabis Anti-Aging Topicals to Try
CBD is considered as one of the notable 2020 skincare trends. Creams, lotions, salves, and oils infused with cannabis and applied to the skin to make it glow and look young. Here are some Cannabis beauty products as the most powerful anti-aging to include in your skincare regimen.
Saint Jane Luxury Beauty Serum – Brightens and soothes skin with a few drops.

Cannuka Nourishing Body Cream – Provides anti-inflammatory and skin-calming benefits. Ingredients such as manuka honey and hyaluronic acid will make your body soft to touch.

Kiehl's Cannabis Sativa Seed Oil Herbal Concentrate – reduce inflammation and calm acne-prone skin.

Cannuka CBD Cleansing Body Bar – Get all the cleansing benefits of an in-shower lather minus any dryness or moisture-stripping effects.
If you don't know how to remove makeup properly, the natural oils will be stripped from your skin, resulting in eruptions. Removing makeup is the first step in a good skincare routine.
Application of CBD oil makes this easy, apply some drops on your fingertips and massage it on your face in a circular motion. When the makeup entirely breaks down, wipe the oil with a cotton pad.
Cannabis and anti-aging topicals are safe to use, will not get you high, and will bring your skin to a higher level.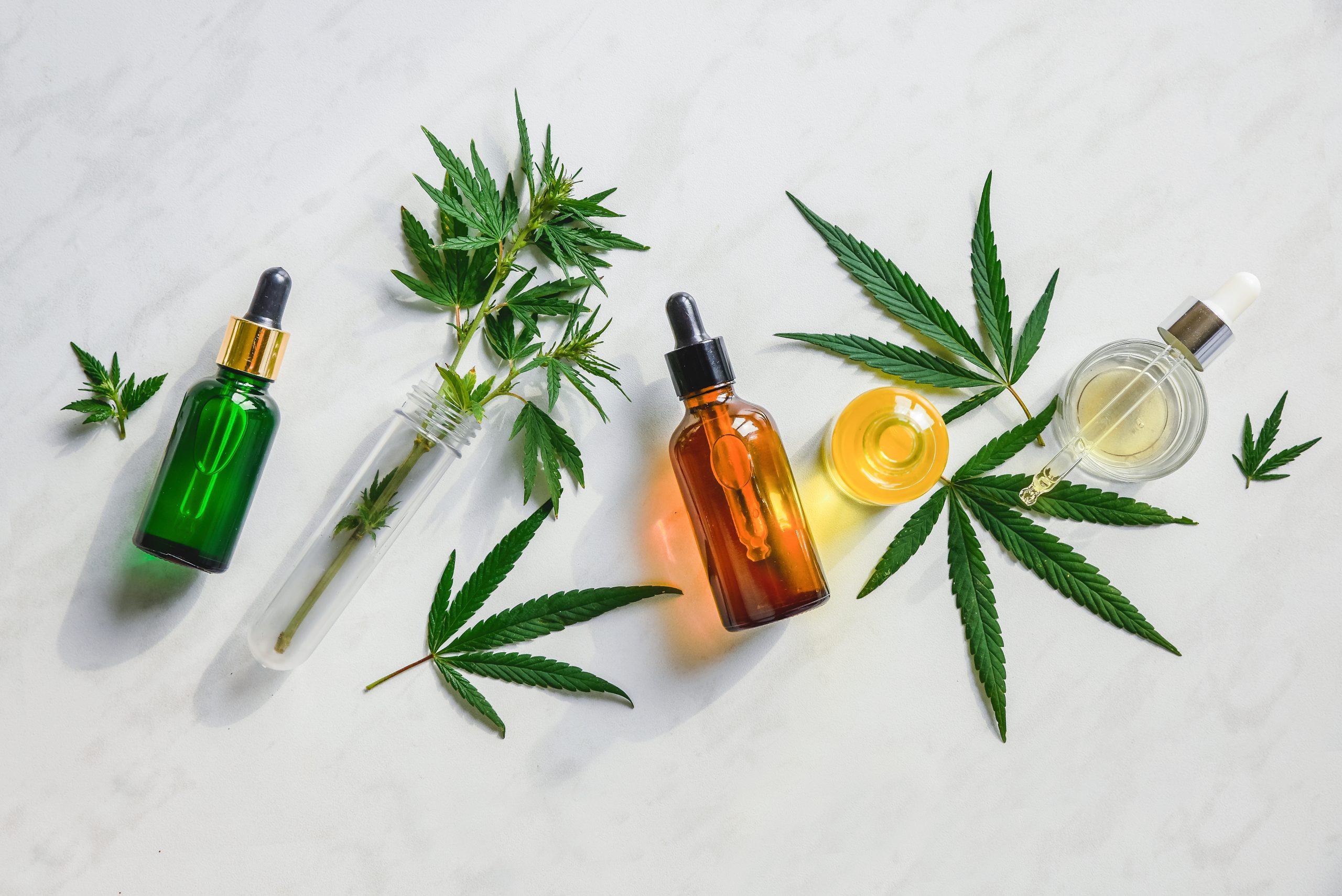 Read more: 
Benefits of Water Soluble CBD Oil