One step inside KANDL and we're immediately seduced by the soft embrace of sweet fragances. Jasmine, bergamot and sandalwood perfume the air and swim throughout this modern-day chandlery like something from a dream. A calming palette of greys, gold and snowy white, paints this luxury boutique, while exquisite marble details and sleek modern décor run throughout. White shelves hold high end luxury brand candles, each with a refined style and colour. Delicate flames, dancing from their glossy pools within midnight blue glass, are like a warm hug. This is Toronto's only luxury candle boutique, café and candle making lab. Here, we craft our own unique scents and candles to gift and bring home.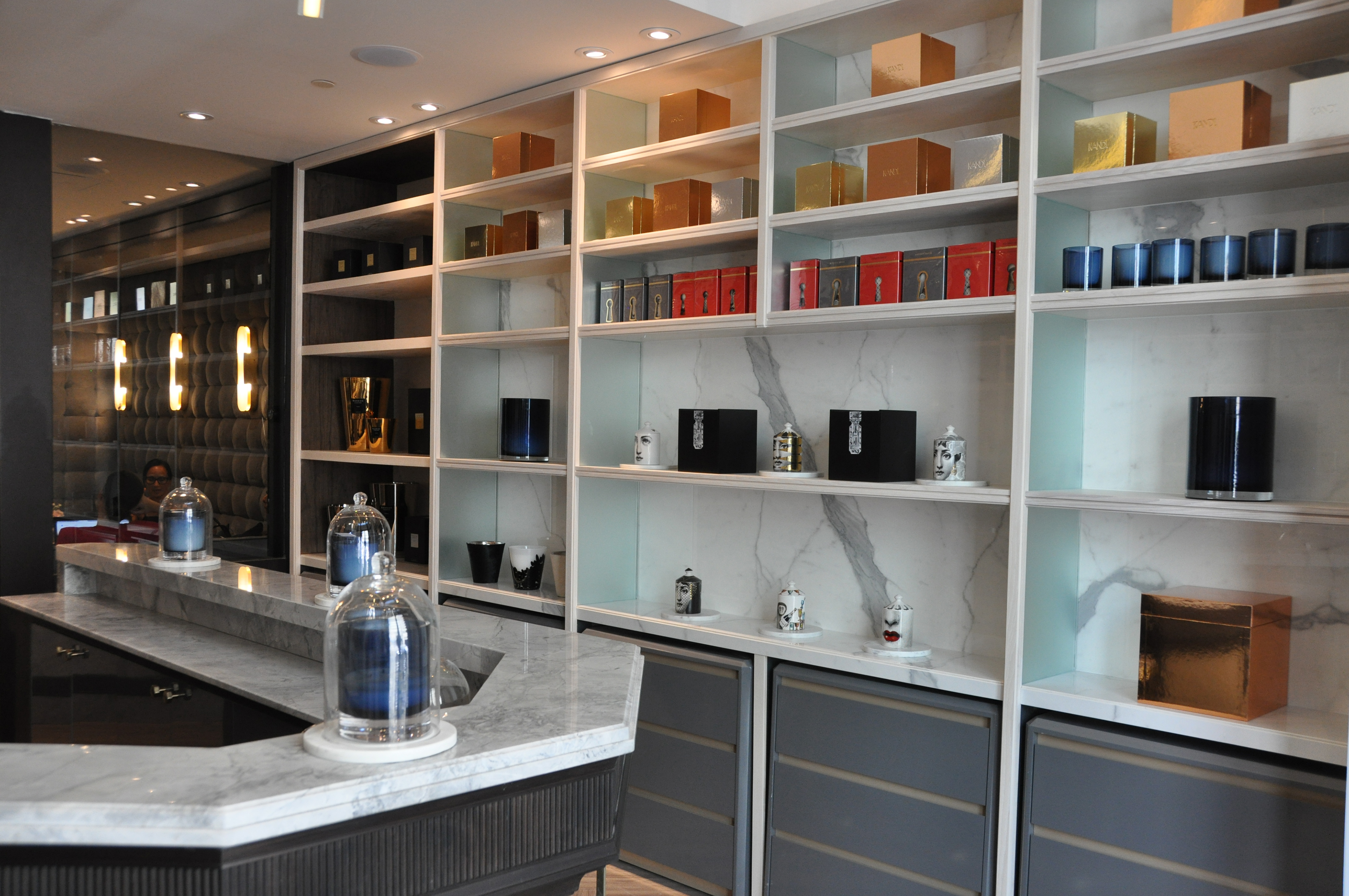 We admire the golden crest of Cire Trudon, the painted faces of Fornasetti, the rich colours that shine from Baobab, the chic sculpted forms of Jonathan Adler, and of course, the simple style and timeless elegance that is KANDL.
Another display shows the sweet springtime hues of the KANDL Wedding Collection. Here, couples choose from a beautiful selection of distinctively enchanting scents contained in tumblers of luminous allure. Pearlescent pastels, soft rose golds, and silvery blue jars: vessels to transform a space and create an atmosphere of true romance and sophistication for a very special day.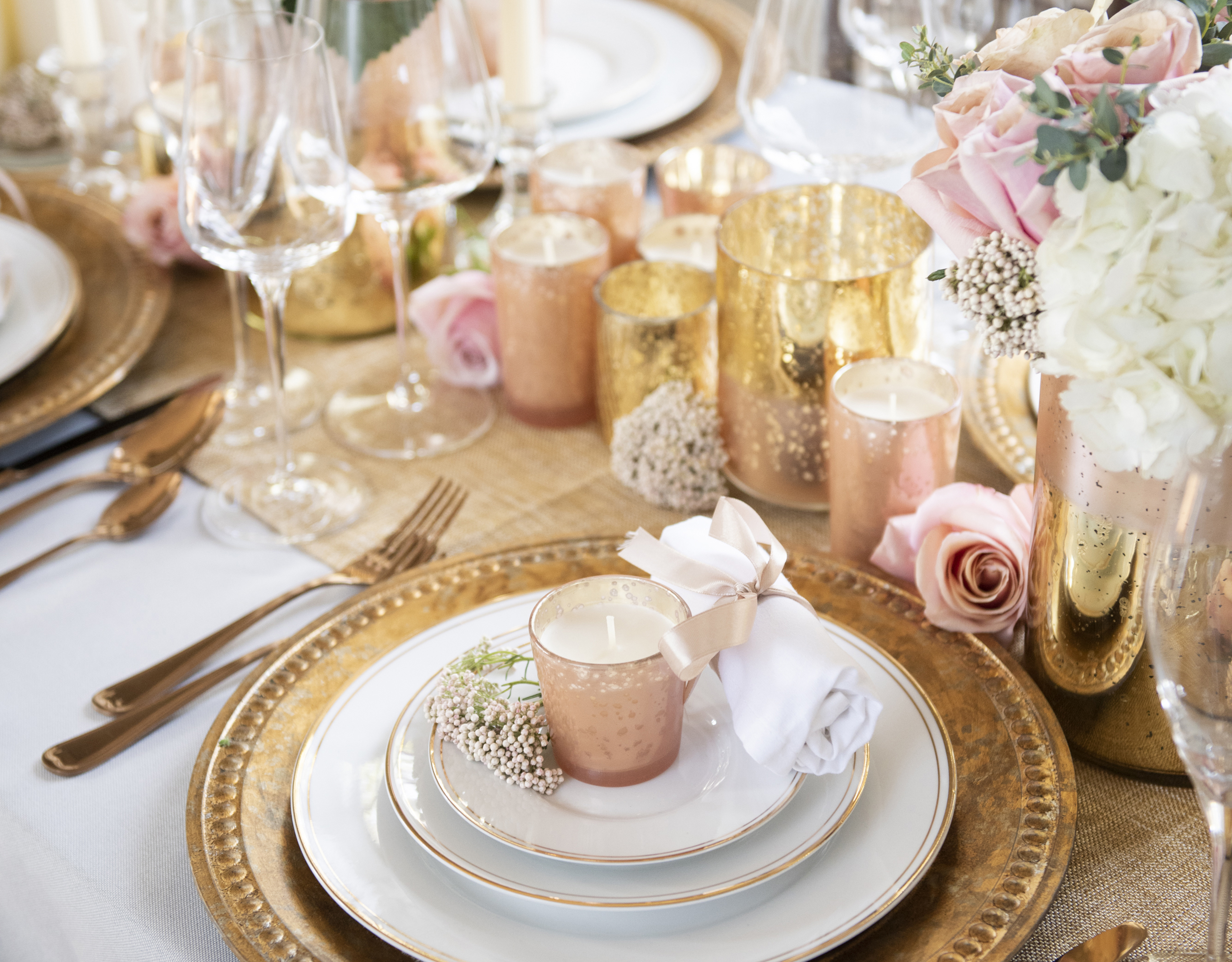 But the magic of KANDL is revealed in our own choice to personalize our own candles. We choose the aromas, the vessel, packaging. Our unique experience is customized to our own tastes. Within the luxurious candle lab, nestled in the back of the boutique, couples, bridal parties, friends and dates choose their own preferred blend of scents to pour into their own unique candle. This is the refined art of chandlery.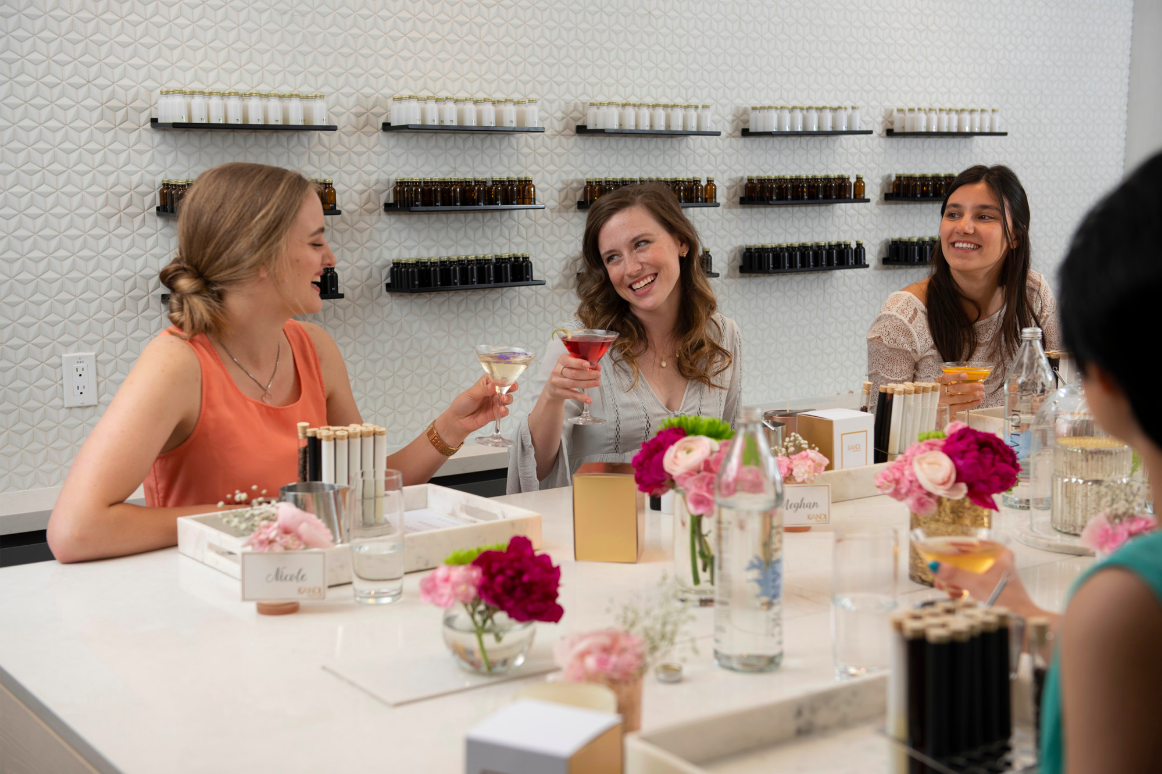 We don't need an engagement ring to create a candle of our own. This one of a kind experience is open for us all. Delightful alone, and enormously fun with a friend. We sip stylish cocktails and toast the day, as we craft our own personalized candles.
A knowledgeable and friendly guide leads us through the process. There is no rush. We take our time to choose from base, middle and top notes to blend into the aroma of our candle. All fifteen scents have been carefully tested so that any combination of three will produce a sublime fragrance.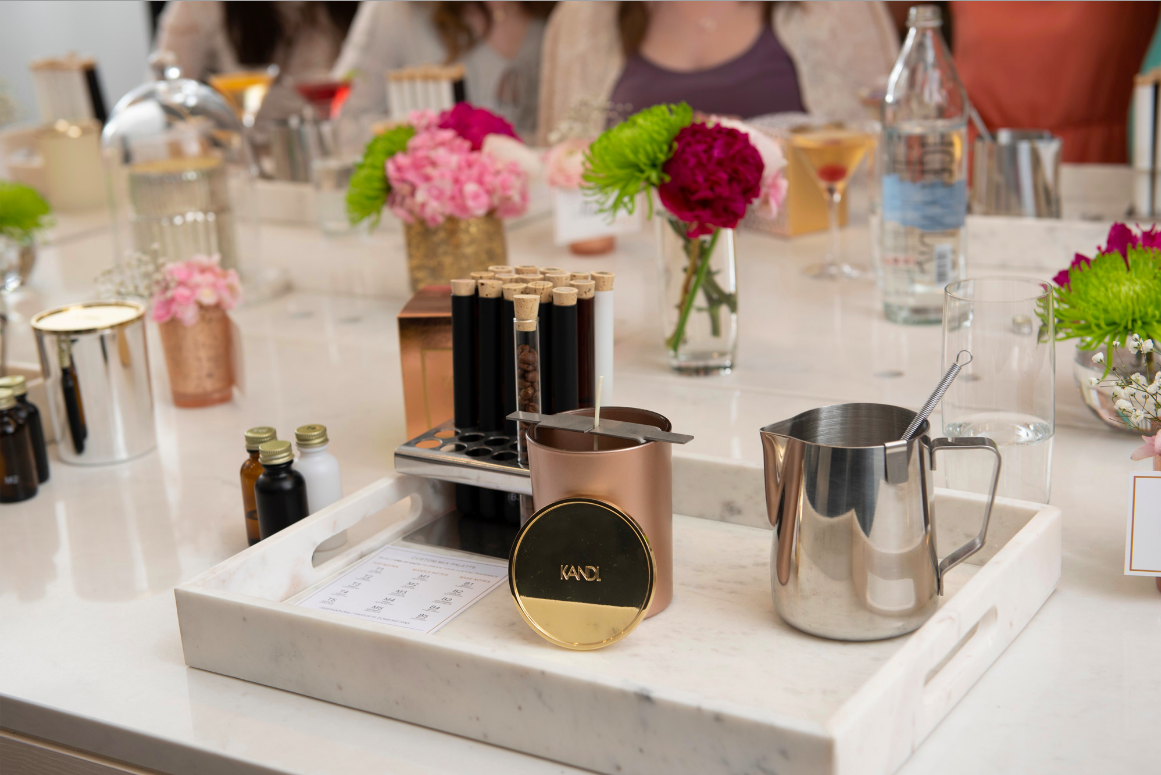 It is a singular experience. Entirely personal and unique. Fun and in fact, reflective… As we sample the scents laid out before us, and decide upon the colours of containment for our craft – from jar to box – we pour a piece of ourselves into the candle. All elements pull together to make the perfect KANDL for you. It is a rare and beautiful sensory experience to sit and craft our own scented masterpiece.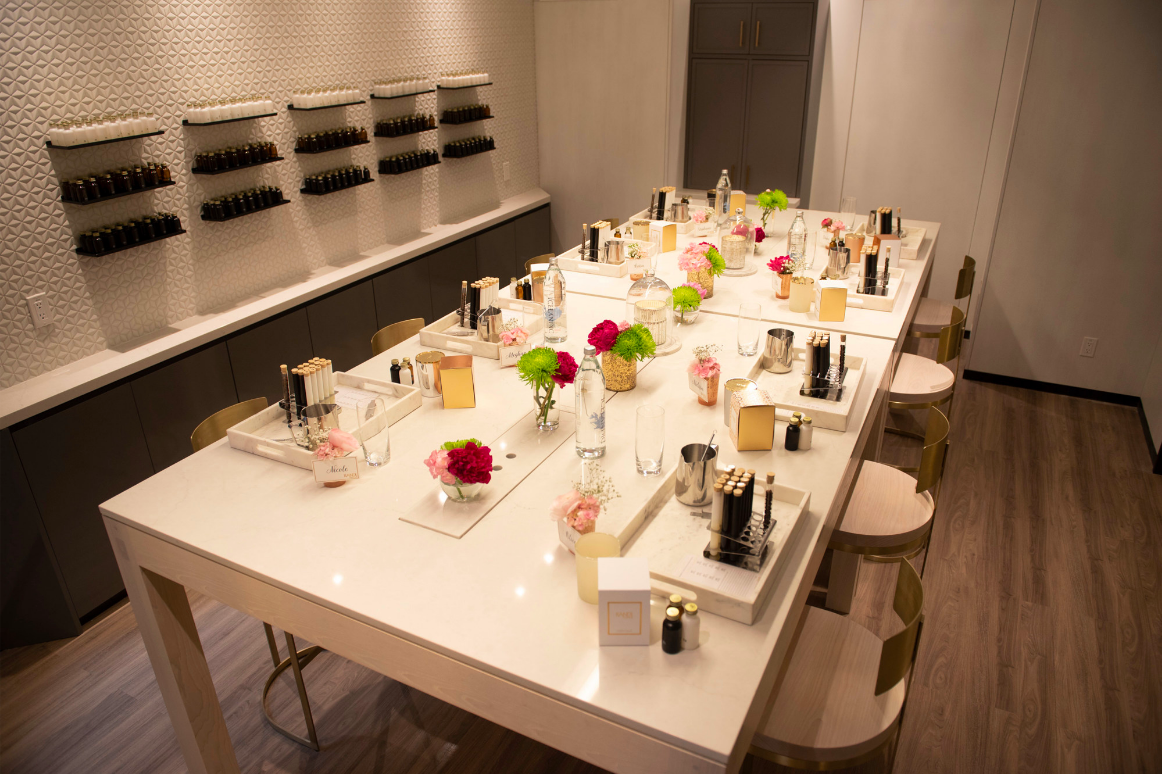 I've chosen my scent and selected the design that speaks to me. I set a wick in the tumbler, stir the fragrance into hot wax, and pour the mixture into the candle jar. In 40 minutes, the wax is set. I leave with a chic grey bag and a bouquet of golden white tissue paper holding my precious creation. Time flies fast when we're relaxing in the serene comfort of KANDL's café.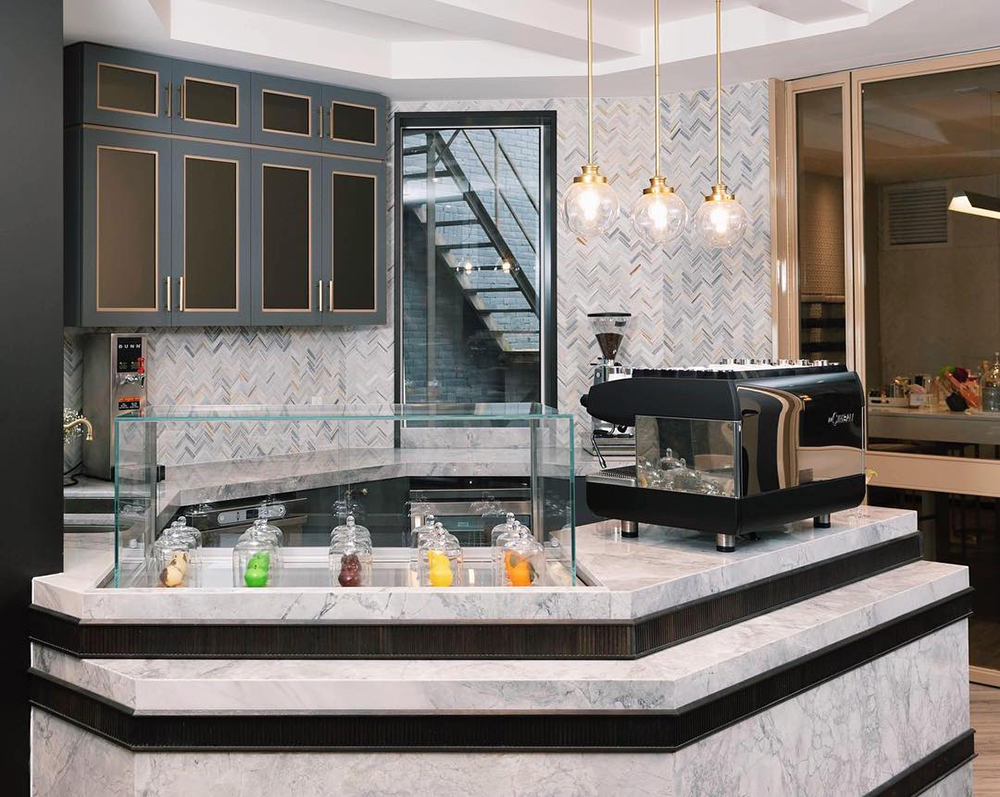 An island of marble, gold and glass is the setting of an ornate dessert display and serving station. Beautiful plates of glossy fruit sit under clear cloches. Green apples, yellow lemons and deep cherries are just some of the pastries present. Made to look like the fruit that inspired their flavour, each is a piece of art customized by a French pâtissier specially for KANDL. Each delicate confection cracks open to reveal luscious velvety smooth fruit. A barista awaits our order. Cappuccinos, lattes and coffee brew behind the counter. Plush grey couches as soft as cashmere, invite us to sit and relax. Even when the candle wax has set, and our creation is ready to depart, we do not want to leave the comfort and quiet elegance of this picture perfect café.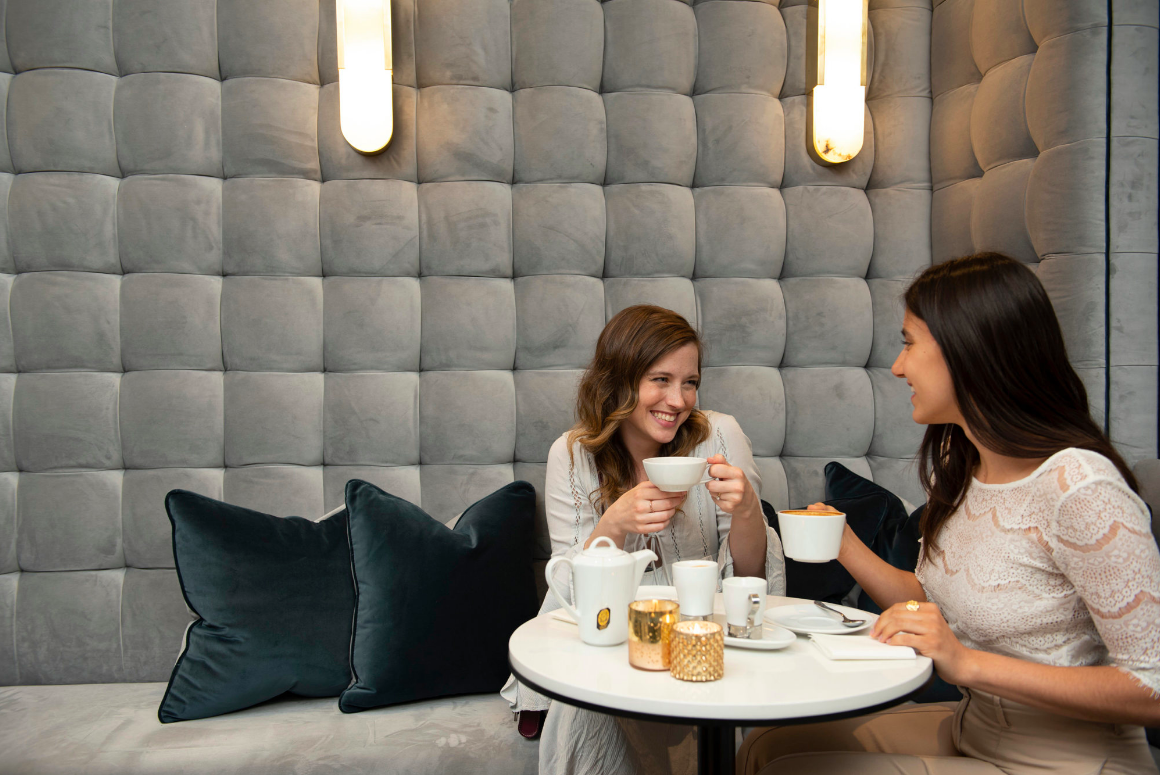 The finest elements of comfort are gathered in this oasis of tranquil beauty. The scent of burning candles. The dim glow of golden flames. Freshly brewed lattes. And the softest touch of cashmere clouds. In KANDL, the senses awaken… sight, smell, touch and taste. Beauty is found in every facet and feature. KANDL is an experience, for the senses and the soul.
For more on KANDL, and to book a lab experience to create your own custom candle and fragrance, visit their site and socials below.
Read More