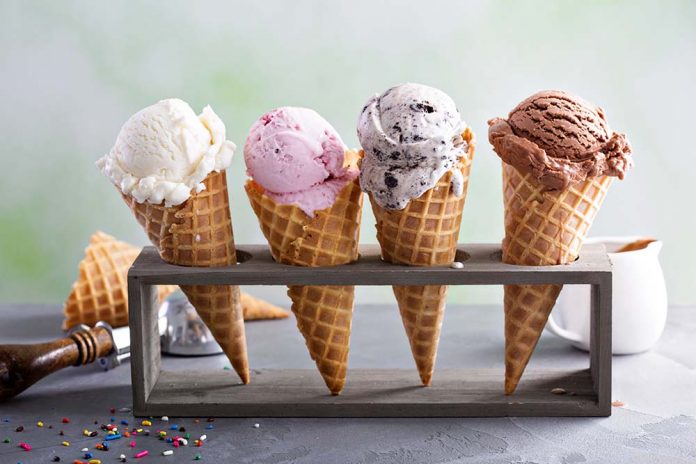 Sweets, the final taste-tier
These are the voyages of hungry vegans everywhere
It's a meal-time mission
To explore tasty new eateries
To seek out delicious desserts
And new bakeries
To boldly venture where no vegan has gone before…
An epic search for vegan sweets in a far off galaxy begins with a streetcar ride to 207 Augusta Avenue. Moments later you land, disembark, and gaze in wonder at the star-burst blue sign shining down on you. Twelve orange letters mark your destination. Cosmic Treats. You have arrived. Prepare for blast off into a world of succulent sweets and fun flavours!
In this quirky and creative universe, the food, staff, and spaceship (restaurant) are all unpretentious. Flavours and fun are all that matter.
Silver tabletops with reflective scalloped patterns line the room. Sleek chairs and booths of cheerful electric orange shine colour in this Milky Way white restaurant. Orbs of light hang in erupting lamps, like asteroids mid-explosion. The stretched walls of this sweets and treats eatery are adorned with windows to the outside world of outerspace: swirling stars, moving meteors, and the dark mysteries of the galaxy – all visible from the comfort of your own table.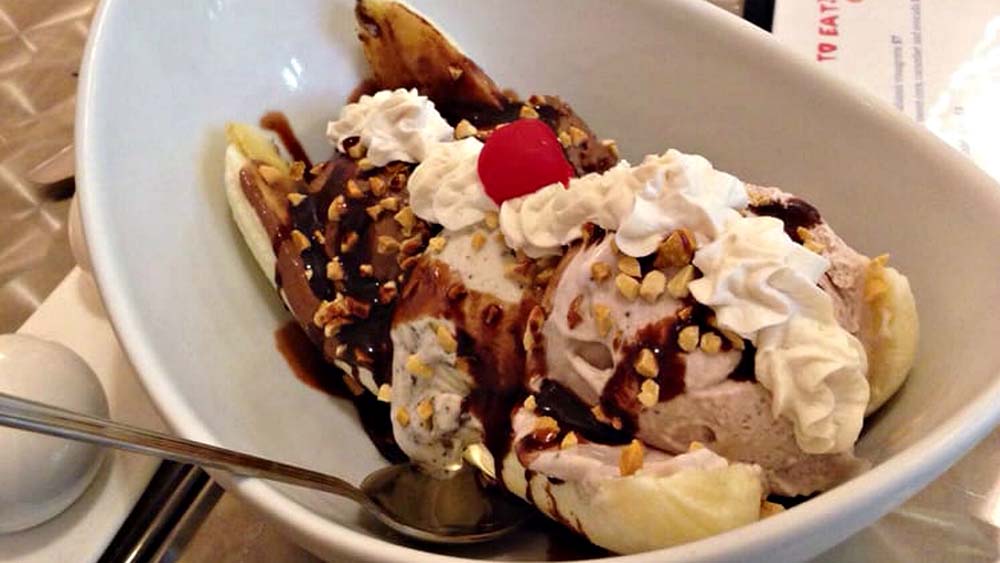 They say that space is cold. A frozen ocean of stars and ice. So while you wander through the solar system, what better sweet to sample than a cup or cone of sugared ice (cream, of course). In all the wide world you will be hard-pressed to find a better place to enjoy this universally loved dessert. Each scoop is soft and sweet; creamy velvet slipping down your throat. The quality of this made-in-house ice cream is so convincingly cream-based, that even my non-vegan friends have questioned the components of their dessert. But alas, cashews are the base for these icy treats (so nut allergies beware). Fortunately, there are desserts to be discovered here that do come nut-free. And for all those who are gluten intolerant, you may be intrigued by this tidbit of information; many of Cosmic Treat's ice cream flavours come completely gluten free, and so do a selection of their baked goods. So set your course for the ice cream menu at this outerspace eatery; believe me, the tastes are unbelievable. Others would also agree… given the fact that Cosmic Treats has been awarded the Toronto Veggie Award for "Best Vegan Ice Cream" in the city in 2016 and 2017. And the flavours are really out of this world! Their artisanal ice creams are rotated on a regular basis, so you never know what you might discover: Death by Chocolate, Cheesecake, Salted Caramel, Cookies 'N' Cream, Banana Bread, Creamy Vanilla, Sweet Strawberry… it's always a mystery, but a tasty one at that. Silky and smooth, and so very satisfying.
But let's face it, a scoop or two of ice cream this good is never enough for our sugar lusting taste buds. And after all, when you've roamed the wide reaches of the galaxy in pursuit of the perfect frosty vegan dessert, you deserve to enjoy it.
So split a split, a banana split, with a friend, family or date – or whomever you've taken on your vegan voyage. Their faces will shine with the glory of three suns when they see the bowl of frozen delights placed within their reach. Three scoops of artisanal ice cream resting in the embrace of a freshly cut ripened banana, all sitting under clouds of fluffy whipped cream, warm hot fudge (or salted caramel if you prefer), a topping of your choice, and of course a cherry on top.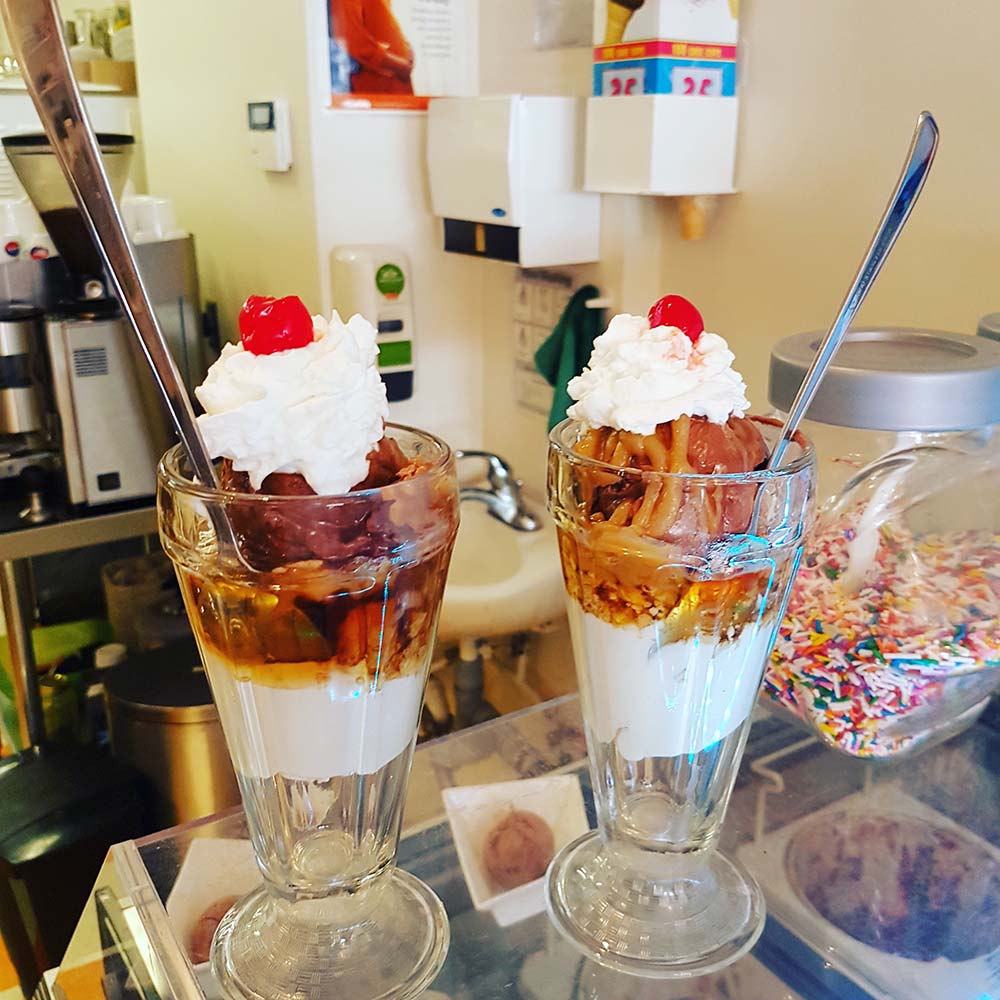 Now, if ice cream is your kryptonite, there is no better dessert for you than the almighty Ice Cream Apocalypse. The name is well deserved, for this dazzling dish shall bring about the end of your hunger. Six scoops of homemade ice cream, three toppings of your choice, piles of lightly whipped cream, streams of ooey gooey sauce, and naturally, a maraschino cherry at the summit. But be warned, this dessert is not for the faint of heart – it is BIG – and best enjoyed with the company of two or three helping hands.
If you've landed in this galaxy alone but still long for a lip-smacking sundae, then try the Far From Pedestrian Sundae. The two scoops of ice cream are indubitably doable, and joined by their delicious comrades; whipped cream, hot fudge (or salted caramel) and maraschino cherry.
Stopping by for a quick grab and go? Order a scoop or two to take with you. Ice cream not on your mind today? That's A-Okay. Choose from a selection of their freshly baked sweets collection. A slice of chocolate cake perhaps? Or gluten free cheesecake with blueberry and coconut/almond crust. A Cosmic Cupcake, with swirling caps of icing. Or a cookie of colossal creation: chocolate chip, oatmeal chocolate chip, or best of all, double chocolate marshmallow. But when you dock by the baked countertop, you cannot depart without first tasting the hybrid of happiness; the cookie brownie. The best of both worlds; a sweet chewy chocolate chip cookie on the surface of a rich moist cocoa brownie. When warmed, this dessert is dramatically delicious. If you love cookies, and you love brownies, you might just want to try it!
This vessel of vegan delights is sweet to the core. A star system of shining sugary desserts; too many to try all at one. But since this eatery is sitting near Spadina – and so much closer to swing by than Saturn, sampling their tasty treats throughout the year will be an easy undertaking indeed.
To infinity and Ice Cream!