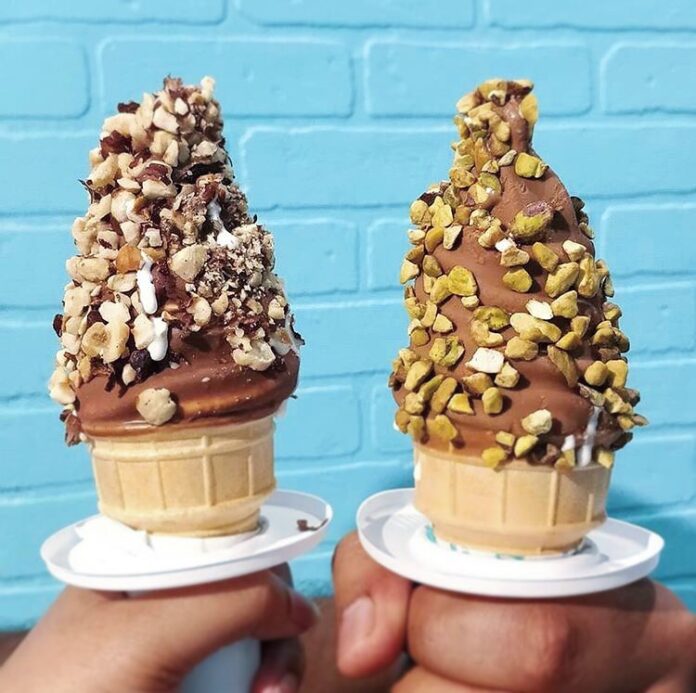 Ice cream season is upon us, which means it's time to scope out which local shops are going to be on our summer bucket list. From trendy dipped soft-serve to classic homemade flavours made with local ingredients, below is a list of the best ice cream shops in Montreal.
What started as an ice cream shop has now grown into a full-blown dessert restaurant, and is sure to impress. Chocolate fondues, bars, bonbons, and treats (like chocolate covered-pretzels or almonds) are all on offer at Chocolat Favoris, but now that summer is fast approaching, ice cream is once again the main focus. Pick your soft serve flavour, dip it in the melted chocolate of your choice (they recently introduced a limited edition ruby chocolate flavour), and cover it in more delicious toppings!
In the past 30 years, Bilboquet has grown from being a little ice cream shop on the streets of Outremont to one of Montreal's most beloved ice cream brands. Serving up homemade ice cream and ridiculously refreshing sorbet every day of the week, Bilboquet has seven locations in the city. However, if you don't feel like trekking it to one of their locations, you can also find Bilboquet ice cream in some local grocery stores, such as Provigo and Cinq Saisons.
Kem CoBa is the go-to ice cream joint for all those living in the Mile End. With unique flavours like caramel, orange coconut, and dark chocolate raspberry, you're always in for a treat at Kem CoBa. Plus, the flavours change weekly, meaning you can go back multiple times in a month and be treated to something different. Fair warning: if you're stopping by on a warm, summer evening, you can pretty much guarantee a line.
Conveniently located on Saint Laurent, Ripples is a great place to stop in if you're looking for some homemade ice cream. Ripples has been open for over 17 years and has become one of Montreal's most popular ice cream joints. With ice cream flavours like cappuccino, blackberry chocolate chunk cheesecake, and guava-grapefruit sorbet on the menu, there's no need to settle for plain vanilla.

Dalla Rose is one of the trendiest ice cream shops in Montreal. Keeping it simple, they aim to serve tasty, homemade ice cream on the daily (rain or shine, they're open from noon until 9:00 pm). Their other specialty is cookies, of which there are vegan and gluten-free options, and sometimes they even combine the two, serving up cookie ice cream sandwiches (otherwise known as the ultimate summer treat). No matter what you're in the mood for, fresh flavours, vegan options, and local ingredients are all part of the daily menu at Dalla Rose. From the Saguenay blueberry ice cream to Quebec strawberry and roasted pistachio, there are so many delicious ice cream flavours at this St. Henri shop.
Bursting onto the scene in 2014, La Diperie quickly came to rival Ripples as the premier ice cream spot in the Plateau and has since taken over the city (there are now locations in Old Port, Monkland, St. Henri, Little Burgundy, Cote-des-Neiges, and downtown). Keeping things simple, La Diperie specializes in plain soft serve ice cream. In this case, it's the toppings that take the cake. Once your cone has been piled high with creamy soft serve, it is then absolutely covered in anything you desire. Toppings include nuts, coconut, melted chocolate, pretzels, and crushed cookies!
Pandan is Montreal's only Southeast Asian ice creamery. Using a technique originating in Malaysia and Thailand of rolling the ice cream, this ice cream joint located in St. Henri is like nothing else. All of the ice cream and toppings are homemade and change regularly, so you're in for a surprise each time you visit. Past flavours have included blueberry basil with lemon shortbread crumble and honey lavender with tapioca bubbles.
Read more: