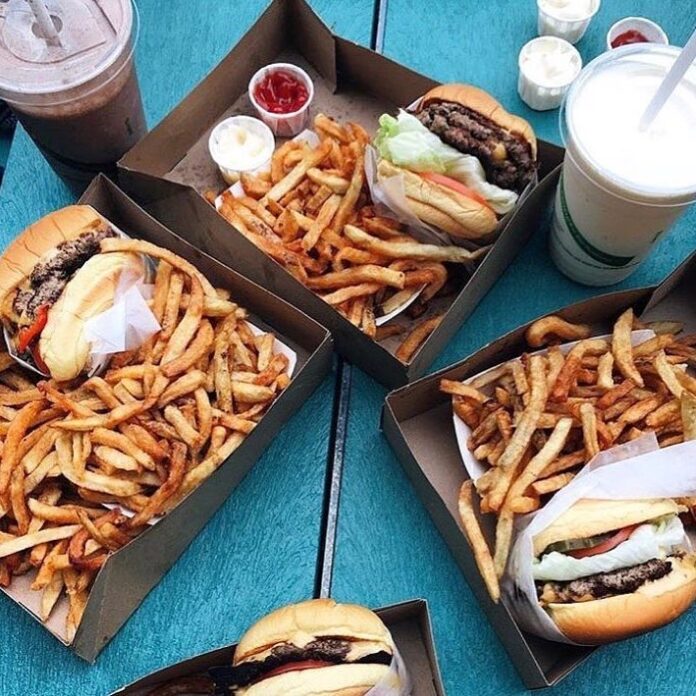 As one of Canada's largest cities, Montreal is home to a variety of American chain restaurants, such as Five Guys, Subway, McDonald's, and more. But instead of focusing on them, I've compiled a list of my favourite local Montreal chains. The eateries below started with one location and in recent years, have expanded to multiple locations across the city, bringing their delicious (and inexpensive) eats to boroughs across the 514.
No one does gourmet salad like Mandy's. This bright and airy salad franchise boasts some of the most unique, exciting flavour combinations for salads that I've ever seen. Seriously, even if you think you don't like salad, I urge you to try Mandy's because if any restaurant can change your mind, it's this one. But don't take my word for it, consider the fact that Mandy's has grown from one downtown location on Crescent Street to seven locations across town, including their beautiful (and huge) new Old Port locale, in less than a decade. Oh, and don't forget to try one of their freshly-made smoothies or gluten-free treats.
Opened in 1986, Boustan is a Lebanese-Canadian fast casual eatery serving up authentic Lebanese cuisine in all of its Montreal locations, of which there are a whopping 20. Known for their traditional shawarma available in plate or wrap form, you can't go wrong with an order of chicken shawarma served with rice, potatoes, and coleslaw (side note: the garlic potatoes are seriously good). I also recommend a side of freshly made hummus to go with your pita and perhaps some baklava for a sweet finish.  
Perhaps one of the best-kept secrets in the city, Hinnawi Bros Bagel & Cafe has achieved success amongst students, thanks to their locations right near Concordia and McGill. This bagel café combines the best of both worlds: bagels and sandwiches. Each sandwich (both breakfast and lunch options are available) are served on a classic sesame seed bagel with a side of potato chips. My personal favourite is the BLT (topped with fresh crunchy lettuce, sweet tomato slices, and a generous helping of crispy bacon,) but my friend swears by The Toronto, made with grilled turkey, mozzarella, avocado, bacon, tomato, and spicy mayo. They also have lots of delicious sweet options, such as giant chocolate chip cookies that are the perfect ratio of crispy to chewy, as well as a number of vegan and gluten-free desserts.
Uniburger operates under the slogan, "The Best Burger in Montreal," and I promise you, it lives up to its slogan. When a hankering for a cheeseburger and fries hits, my go-to is always Uniburger. I've tried several burger joints in Montreal, and while I enjoy Burger Royal and Burger Bar when I'm looking for a higher-end experience, Uniburger remains the best fast food iteration of the classic American dish that I've ever eaten. The menu is simple: cheeseburgers and hamburgers with single or double patties topped with your choice of condiments. For me, it comes down to the meat and the bun. The meat is top-notch – both lean and flavourful – and the bun is buttered to perfection and light and fluffy, just as it should be. Topped with melted cheese, perhaps a few slices of bacon, pickles, onions, mustard, and ketchup, and you have yourself heaven in a foil wrapper! Oh and don't forget to order a side of shoestring fries (soft without being overly salty.)
READ MORE: