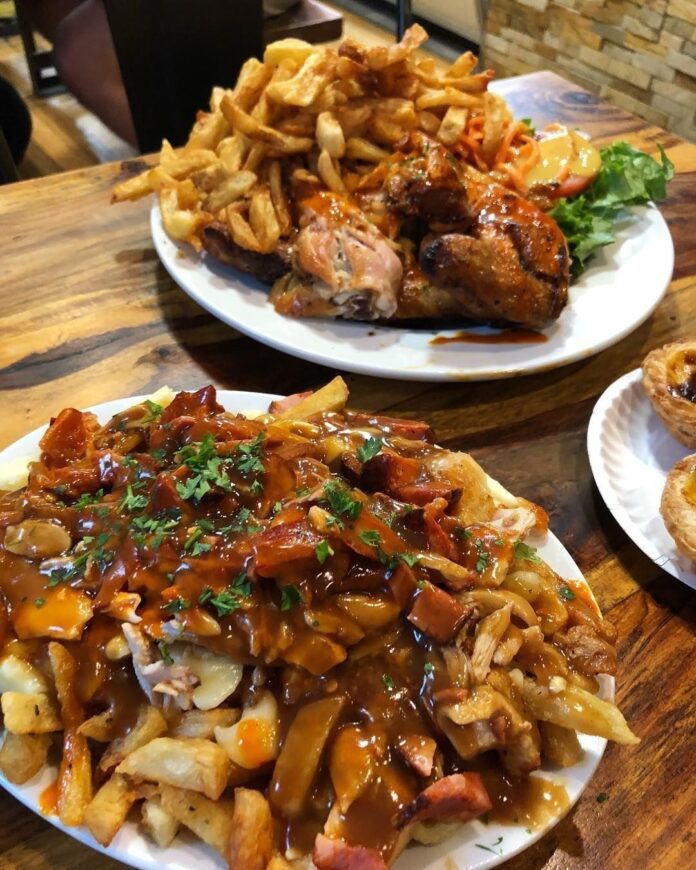 Montreal is known around the country as being a food mecca. More than French pastries and gourmet dining experiences, the second largest city in Canada is also home to some phenomenal cheap eats. Whether you're after a new lunch spot to spice up your daily routine or looking for a new dinner haunt that won't break the bank, check out my list of the best inexpensive places to eat in Montreal.  
Ma Poule Mouillée
Montreal is known for some seriously good fast casual Portuguese cuisine, with my personal favourite spot being Ma Poule Mouillée. This counter-serve eatery in the Plateau serves up traditional rotisserie-style chicken, spicy chorizo, and a Porto-specialty, bifana. Plates, sandwiches, salads, and even poutine are available with the meat of your choice, all including the brand's signature sauce (available for purchase in spicy or not spicy). For me, it's all about the chorizo grilled sandwich and The Louis Cyr (half chicken with fries and salad). With the most expensive item on the menu being just $16, you can't go wrong at this inexpensive Montreal restaurant.
Bombay Mahal
If you like Indian food and you live in Montreal, then you've probably heard of Bombay Mahal. Rightfully so, Bombay Mahal is one of the most popular Indian restaurants in the city, so popular in fact that they opened Bombay Mahal Express in the Plateau as a companion to their original Parc-Ex location. I've been to both locations and while the original on Jean-Talon definitely offers a preferable environment for dining it, I love having the convenience of the Express eatery if I'm taking my meal to go. Onto the food – Bombay Mahal serves up full-flavoured curries, soft basmati rice, pillowy yet crunchy naan, rich mango lassi, and some of the tastiest samosas I've ever had. If you order each dish separately, it could cost you upwards of $20, however, if you opt for one of the Thali combos, you'll be looking at a full meal (two curries, rice, salad, a samosa, and naan) for under $10.
La Banquise
If you haven't tried poutine from La Banquise, have you really lived? La Banquise is the poutine spot in the city. Open 24 hours, this Plateau eatery (it's actually located right across the street from Ma Poule Mouillé) serves up over 30 versions of the famous Quebecois dish. From The Paul-Pogo Poutine topped with pogo, onions, and bacon to the The Taquise topped with sour cream, tomatoes, and guacamole, there's guaranteed to be a poutine on this menu that strikes your fancy – they even have vegan poutine! Prices range from $7.75 to $12.25 for a small portion (but trust me, this will fill you up), and go up to $18.95 for a large portion (the perfect size for sharing)!
Schwartz's Deli
A Montreal staple, Schwartz's almost always has a line out the door, no matter the time of day or month of the year. Montreal is known across Canada, and beyond Canadian borders for its unique smoked meat. Schwartz's happens to be one of the oldest delis in the country, famous for serving up mile-high sandwiches of this savory, smoky meat. Plates and sandwiches of anything from turkey to salami are available, but if you're going to Schwartz's, it's basically a crime not to order the smoked meat. A smoked meat sandwich (and I assure you, they are packed to the brim) will set you back $10.25 and you'll get to choose your preferred cut (extra lean, lean, medium, etc). Each sandwich is slathered in mustard and served to perfection with a dill pickle.
Read more: