Reading Time:

4

minutes
When I initially heard about Sud Salutations, a yoga and beer event in Toronto, I thought to myself, "Hmm, that's a different combination." Drinking a pint of beer after a peaceful, mindful, exercise practice had never crossed my mind. Then I met Becki, the yogi and coordinator of Sud Salutations. "Generally when I tell people about these events, they are surprised, but excited about it," she told me. Becki thought that perhaps for me to understand the concept, I would have to experience it first-hand. She invited me out to one of her Sud Salutations events on a snowy Saturday morning in Leslieville. I love to start my day with yoga, so I was all for it. The beer aspect would have to grow on me, as I am not usually a beer drinker, but I was excited to experience something new.
This particular week, Sud Salutations was held at Left Field Brewery in Leslieville, a small baseball-inspired brewhouse. Left Field has a laid-back vibe that is the perfect pairing with Becki's calm yogi spirit. They don't offer food, instead they have a short snacks-only menu to compliment their artisan beer. This also allows Left Field to be a dog friendly environment. People walk in with their dogs, order a pint, and sit and chat with their K9 by their ankles. It's the perfect place for Becki to bring her sweet rescue dog, Gilly, with her to instruct a class. It's a very relaxed and welcoming environment that makes people feel as though they are a part of a community.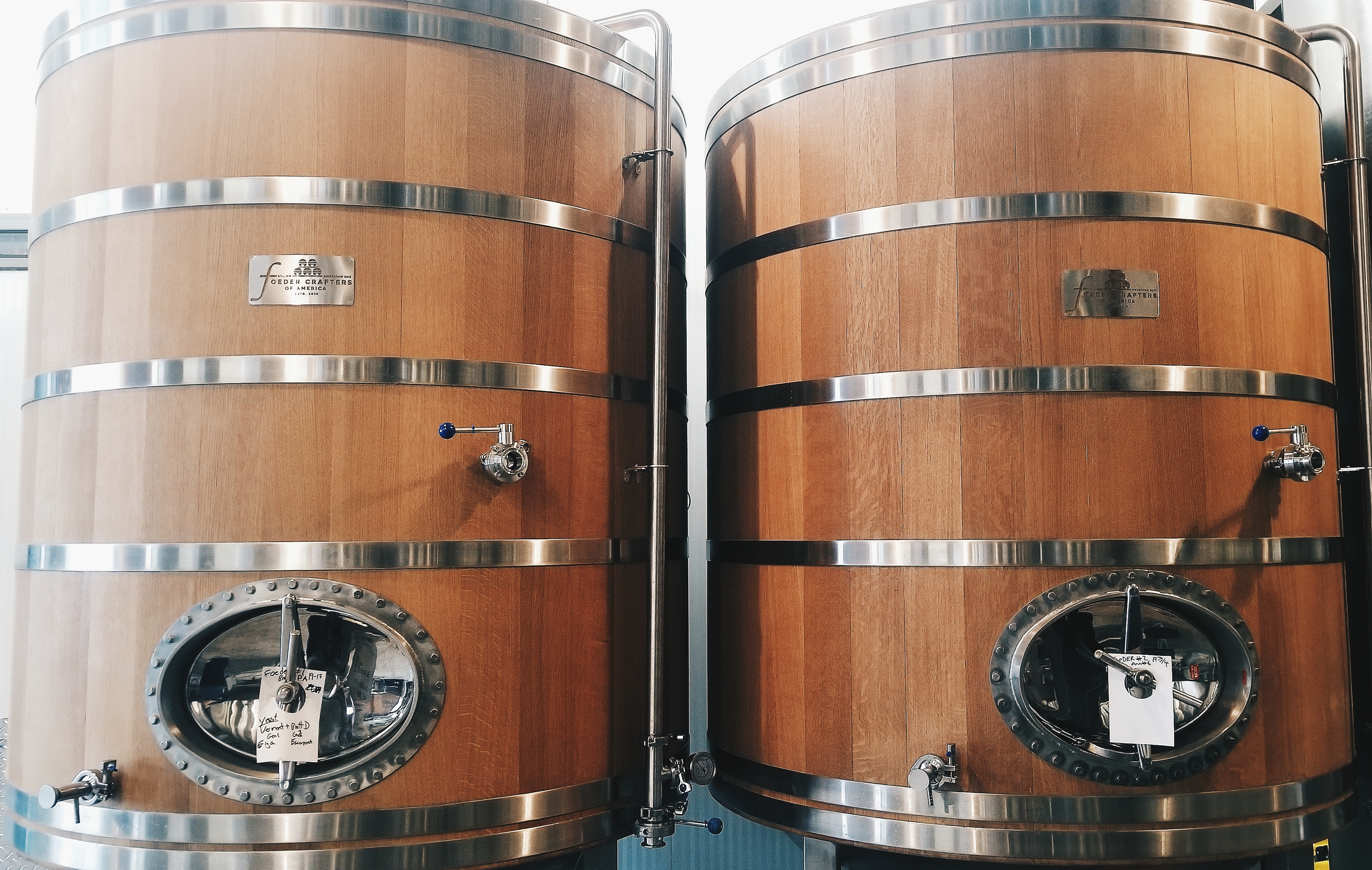 I arrived early enough to sit and chat with Becki, and of course, I had to ask what inspired this unlikely combination of yoga and beer. "I had been working in various roles in the craft beer industry for years, while I was an avid yogi and teaching part time on the side. When I decided to leave the hospitality industry, I had made a lot of connections with brewery staff and owners, wanting to keep these communities of people in my life. Beer yoga was the perfect way to do this. I was able to cross my worlds together by introducing yoga to the beer world and craft beer to the yoga world," she enthused. "I enjoy these events because it creates a foundation for communities to gather and share interests. Not only do I enjoy teaching yoga, but I love to get to know the students after!"
By taking yoga out of the studio people are often less intimidated to try it. This unique experience of doing yoga beside gigantic humming brew kettles creates an easy-going atmosphere. We were off to the side, and had privacy from onlookers, but to be honest, anyone who walked in didn't seem phased by a group of people doing yoga in a brewery. I thought this was indicative of the comfortable atmosphere at Left Field. Becki's teaching style is the perfect combination of relaxing and meditative, but it's also a great workout. I really felt like I had started my morning with a burst of energy after her class. Afterwards, everyone sat at tables together and enjoyed their flights of four different types of beer selected by Left Field themselves.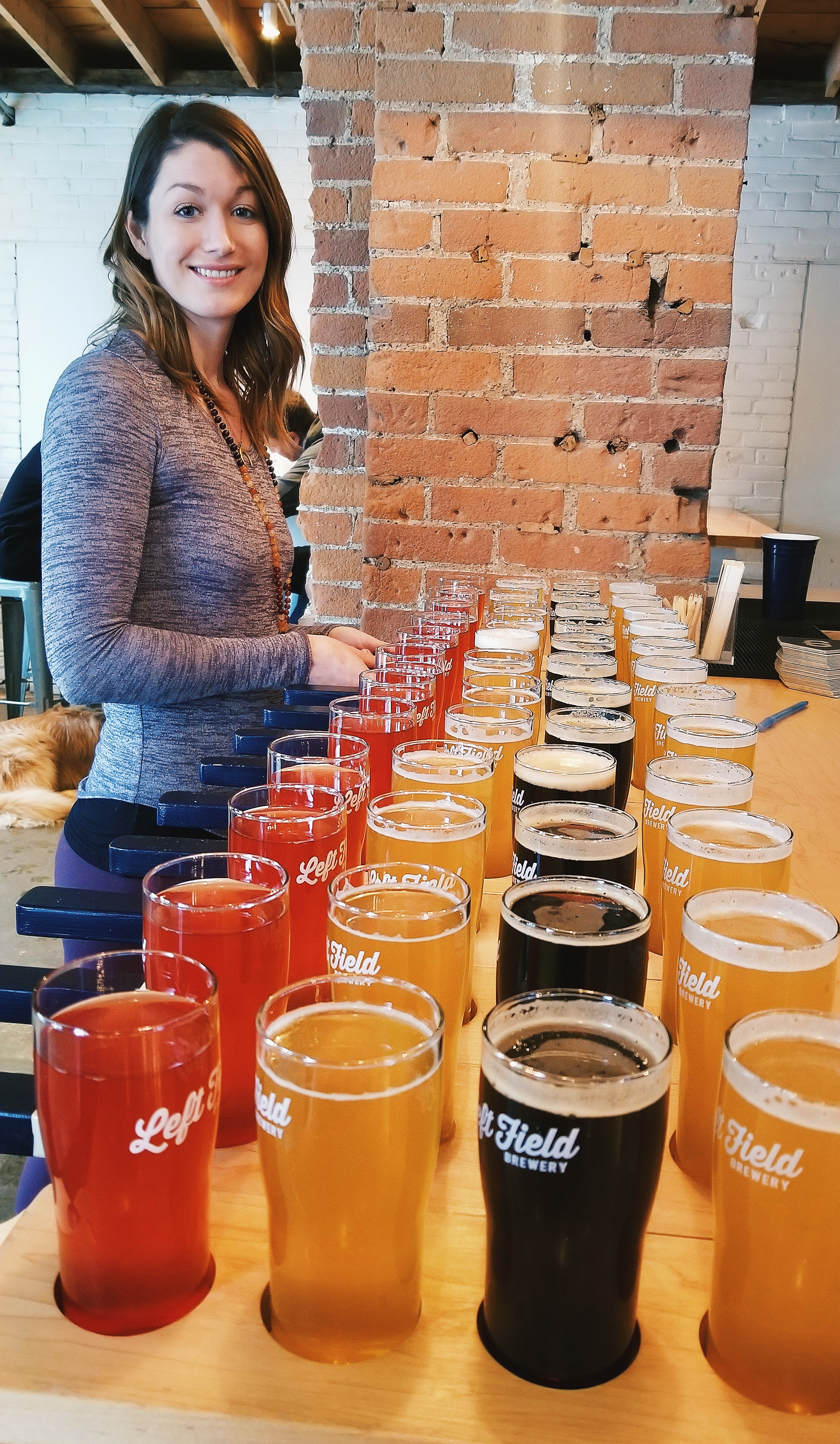 A team member came out to tell us the story of how Left Field started, which felt like a mini brewery tour after yoga. He talked about the four types of beer included in our flight and explained the process behind each of them. I tried each one and immediately decided which was my favourite after my first sip: Cactus League (see pink beer in photo). It had citrus-y notes of melon and lime with a hint of bubble gum and a touch of sea salt. I couldn't get enough!
"My focus is really on bringing community together. It breaks down stereotypes; showing that you can be a yogi and a craft beer nerd and that we all have things in common," Becki shares. "I also choose to keep yoga separate from enjoying your beer. I have heard of events that mix the two together, but personally, I still want the focus of the practice to be on yoga. The beer is a way for us to all connect afterwards." And that it was. The best part of this unique experience was sampling beer at a table full of people I didn't know.
I thought everyone in the room must have been long-time friends. On the contrary, some had met through Sud Salutations and kept in touch ever since. It really was a gathering of people who had two likes in common: yoga and beer. Everyone was welcoming and wanted to get to know one another over a beer. The more familiar we became, the more it dawned on me how Becki had truly created a community of her own. As someone who isn't a big beer drinker, I can honestly say I would attend Sud Salutations again. I hung out with new people, had a vibrant meditative workout, and discovered my new love for beer!
Sign up for Becki's next Sud Salutations event here: https://www.beckicharlesyoga.com/events-1.
Learn more about Left Field here: http://www.leftfieldbrewery.ca/.
Read more: