Reading Time:

6

minutes
Play ball! It's that time of year again: MLB Opening Day. Starting March 28, the 30 Major League Baseball teams once again face off in a total of 2430 games, not including the postseason. While the NFL and NBA might have overtaken the American Pasttime in terms of water cooler conversations, still around 70 million people go to a ballpark each year.
Since the games are not as dynamic as hockey and basketball, and regular season games don't matter as much as NFL games, people tend to spend a lot of their time eating at the game. At DINE we thought that we'd tell you about the best thing to eat at every ballpark. This is Part 2, covering cities from H – O.
Houston Astros (Minute Maid Park)
What to eat: Barbecue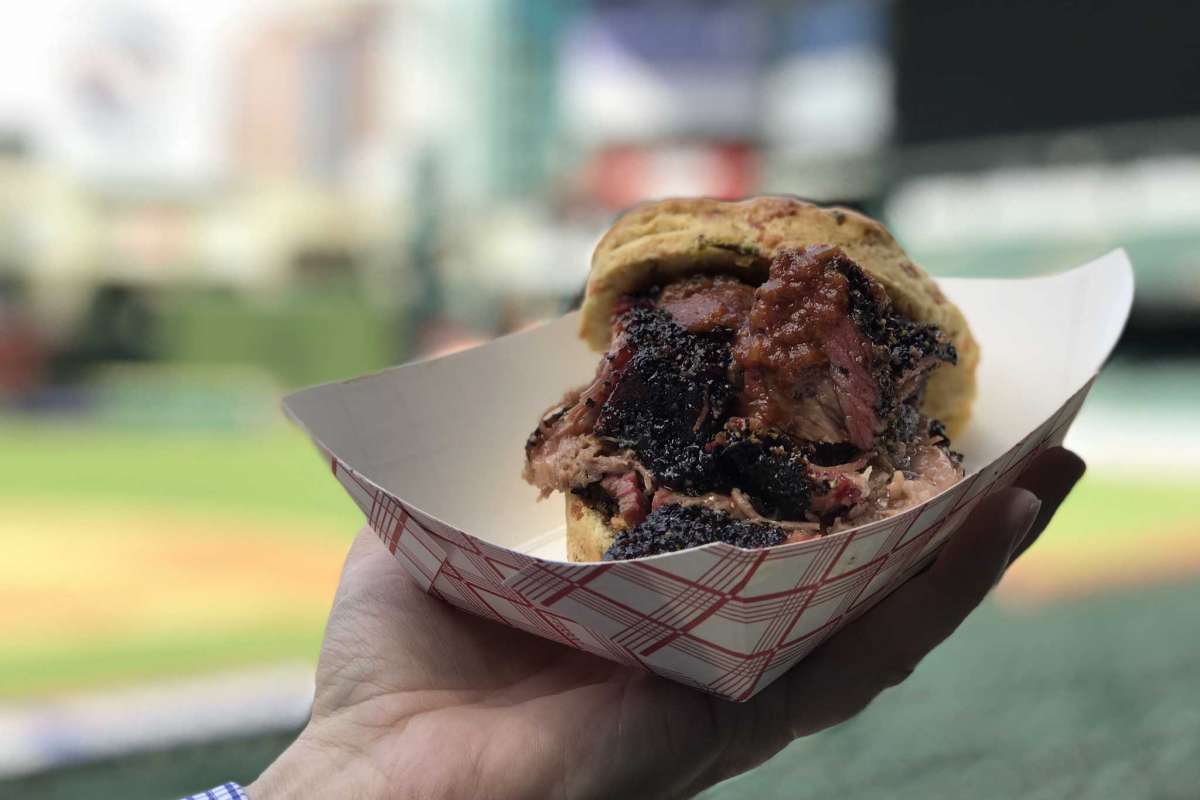 The Astros' Minute Maid Park is a foodie's paradise. There's a Shake Shack, there are tacos, a chicken&waffle cone, desserts and many more. But when in Texas, you have to go for Barbecue. There are a number of purveyors vying for the hearts and wallets of baseball fans. For the novices, brisket is of course king in Texas.
Kansas City Royals (Kauffman Stadium)
What to eat: Belfonte
Sieh dir diesen Beitrag auf Instagram an
Like Houston, Kansas City is a town steeped in barbecue tradition. In Kauffman Stadium however, you wouldn't know. There are, of course, some concession stands selling various smoked offerings, but it doesn't measure up to its Southern competitors. Belfonte Ice Cream on the other hand, is a Kansas City institution since the late 1960s. If you are sitting in the blazing sun on a Sunday afternoon, a dipped cone or some scoops of the frozen treats should sort you out. All of the scoops are served in miniature Royals helmets – adorable. Go for some barbecue after the game – maybe to Jones Bar-B-Q…
Los Angeles Angels (Angel Stadium)
What to eat: Pastrami Dawg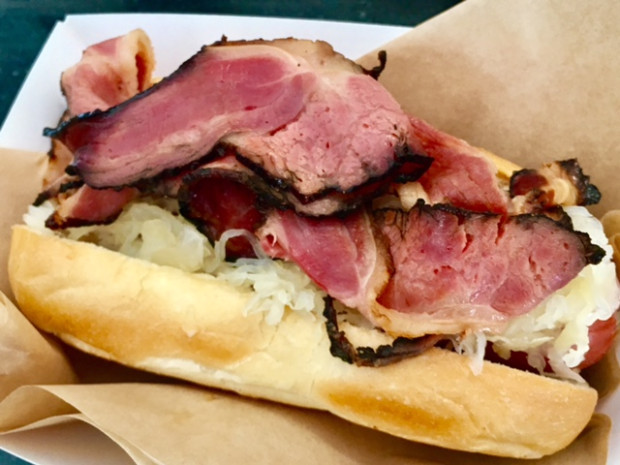 This is a no-brainer for us. If we have to drive out to Anaheim to catch a game, we want the combination of best ballpark snack and best deli meat. The Pastrami Dawg is exactly that: a dog/dawg topped with pastrami and sauerkraut. Thank you, next!
Los Angeles Dodgers
What to eat: Nacho Helmet
Sieh dir diesen Beitrag auf Instagram an
Controversy!!! People travel far and wide for a different offering at Dodger Stadium: The Dodger Dog. But let us tell you: *whispering* – it's overrated. We haven't had a real ballpark nacho item on our list yet, looking at you Detroit, and the Dodgers Nacho Helmet is legendary. Warm nachos topped with carne asada, pico de gallo, sour cream, salsa, refried beans and much more. These days you'll find helmet nachos in many ballparks, with the Mets especially putting up a fierce contender, but the Dodgers' one is the OG.
Miami Dolphins (Marlins Park)
What to eat: Cuban Hot Dog
Sieh dir diesen Beitrag auf Instagram an
The Marlins aren't a great baseball team, but the food is pretty great! Fresh ceviches, tacos and a lot of other good stuff. The taco dog, which is exactly what you think it is, often comes up as a local favourite. Paying homage to Miami's Cuban population, we however, want to elevate the Cuban Hot Dog – which is also exactly what you think: A cuban sandwich that is enriched by adding a sliced Nathan's Beef Hot Dog.
Milwaukee Brewers (Miller Park)
What to eat: Bratwurst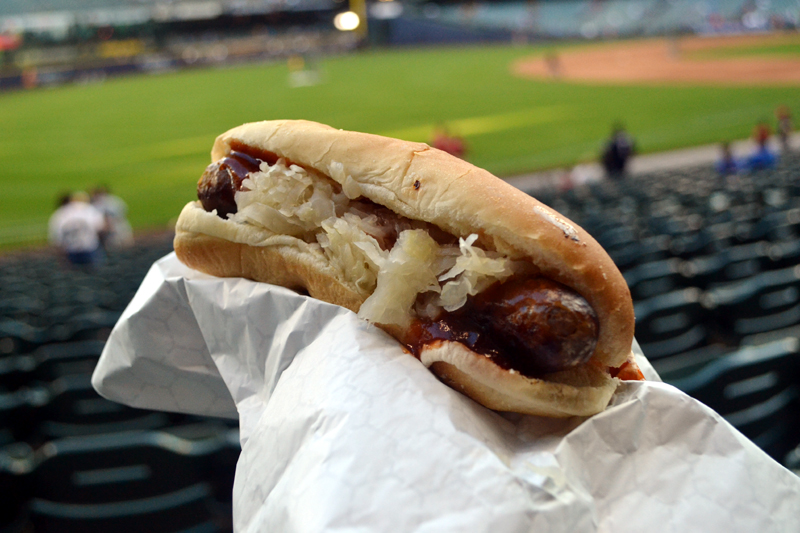 In part one of this compilation, we hammered a point home over and over… The hot dog is the appropriate ballpark snack. But, we've been disingenuous… Bratwurst reigns supreme. The German-style veal and/or pork sausage is already a decades-old staple in European soccer stadiums. It was only a matter of time until Wisconsinites followed suit. There is an intense rivalry in the ballpark between Klement's, the traditional favourite, and Johnsonville, who is now a main sponsor and official sausage of the Brewers. We say get one of each.
Minnesota Twins (Target Field)
What to eat: Kramarczuk's Sausage
Sieh dir diesen Beitrag auf Instagram an
Kramarczuk is a Minneapolis staple. The James Beard Award-winning sausage is snappy, juicy and should not be missed. If you need a break from sausages, there is a lot of other eclectic choices at Target Field. Travel Network host Andrew Zimmern for example, runs a restaurant in the ballpark.
New York Mets (Citi Field)
What to eat: Fuku Chicken Sandwich
Sieh dir diesen Beitrag auf Instagram an
We promised ourselves not to give out multiple recommendations for a ballpark. At Citi Field though, that is almost impossible. Similar to Minneapolis this stadium has a smorgasbord of food choices and it really comes down to two sandwiches. We mentioned that you could get Shake Shack at the Astros' ballpark, but it belongs to New York City. Pat LaFrieda who created the meat blend for Shake Shack also sells delicious steak sandwiches at Citi Field. It comes down to the ShackBurger and David Chang's Fuku Chicken Sandwich. The latter pulls it out in the end, only because Shake Shack is more accessible outside the ballpark. The Fuku Chicken Sandwich is a perfectly fried chicken sandwich, wonderfully seasoned, and complimented by the famous Momofuku Ssam Sauce. It will enable you to forget, how truly awful the Mets rotation is.
New York Yankees (Yankee Stadium)
What to eat: Lobel's Steak Sandwich
Sieh dir diesen Beitrag auf Instagram an
If you want to save money, eat outside the stadium. The Evil Empire aka. the New York Yankees charge an arm and a leg for most food options at the new Yankee Stadium. There is even an actual steakhouse in the ballpark. If you're flush with cash however, you should go with Lobel's Steak Sandwich. Lobel's is a revered New York City butcher, located mere steps away from the Met. The sandwich consists of an onion roll and a mound of perfectly cooked steak – it will set you back $16. We say splurge a little.
Oakland Athletics (Oakland-Alameda County Coliseum)
What to eat: BBQ Ribs and Things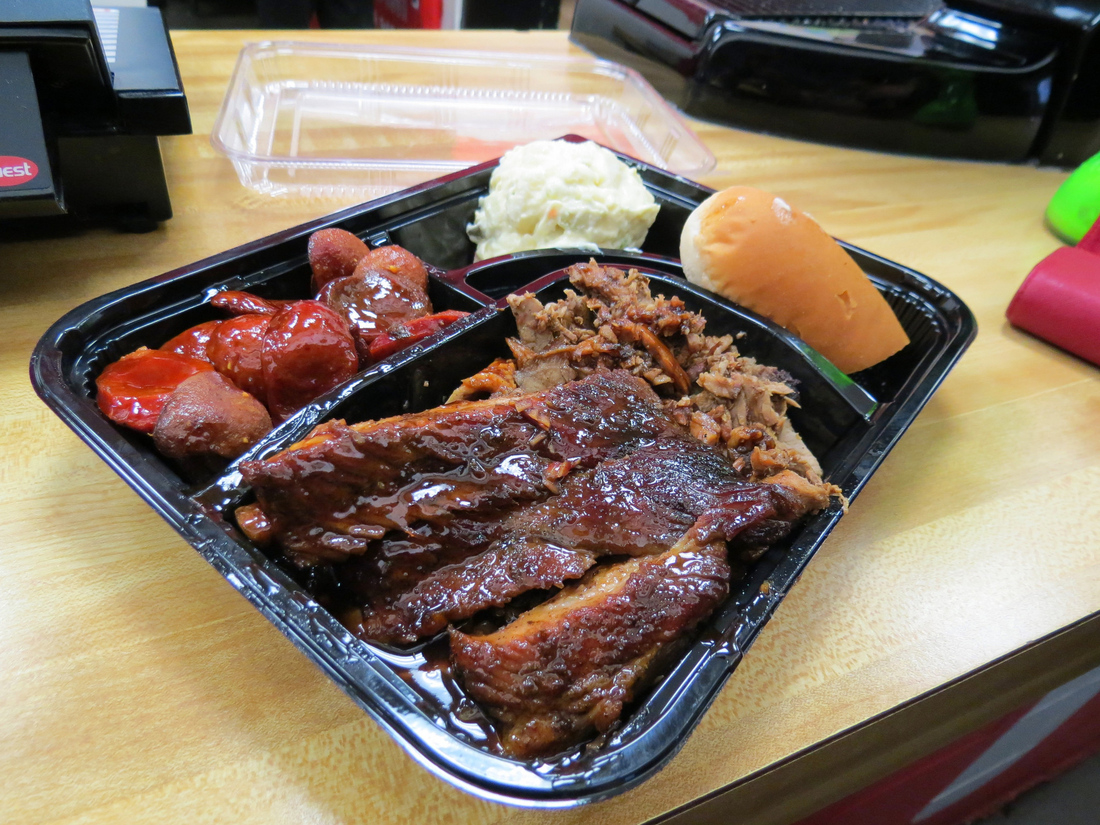 Oooff! You shouldn't kick somebody when they're down, but it is rough out there in Oakland. Their football team is moving to Vegas, their basketball team is moving across the bay to San Francisco and the baseball team plays in a multipurpose stadium. We really hope things are getting better for the people of Oakland. At the A's Coliseum there is truly just one place you should go and it is BBQ Ribs and Things. Get your fix of ribs, links and tri-tip accompanied with potato salad. Otherwise, buy something from the myriad of food trucks outside the ballpark.
Read More: