Reading Time:

4

minutes
Balzac's Coffee Roasters Market Street location is a bright and welcoming spot with cute pastel colours and beautiful design work. This was my first coffee tasting ever, and my colleague's as well, and we didn't know what to expect.
We are greeted by Will Thorburn. His title is literally Director of Coffee (coolest title of all-time? Quite possibly). He has most certainly earned his title, as he has an infinite amount of knowledge about coffee.
He gives us a background on Balzac's. The company has been operating since 1996 and is well-known around Ontario, with 14 locations across the province. Their namesake comes from the French author who drank litres of coffee at a time. They love to provide their customers with seasonally sourced coffee that has a backstory. They also pride themselves on specialty grade coffee, and showcase flavours from the regions where the coffee is sourced. Will says that their customers connect with the darker roast. In addition, they have a unique marble blend with light, medium and dark. Not only is the marble blend flavourful, but it has a lovely visual component as well.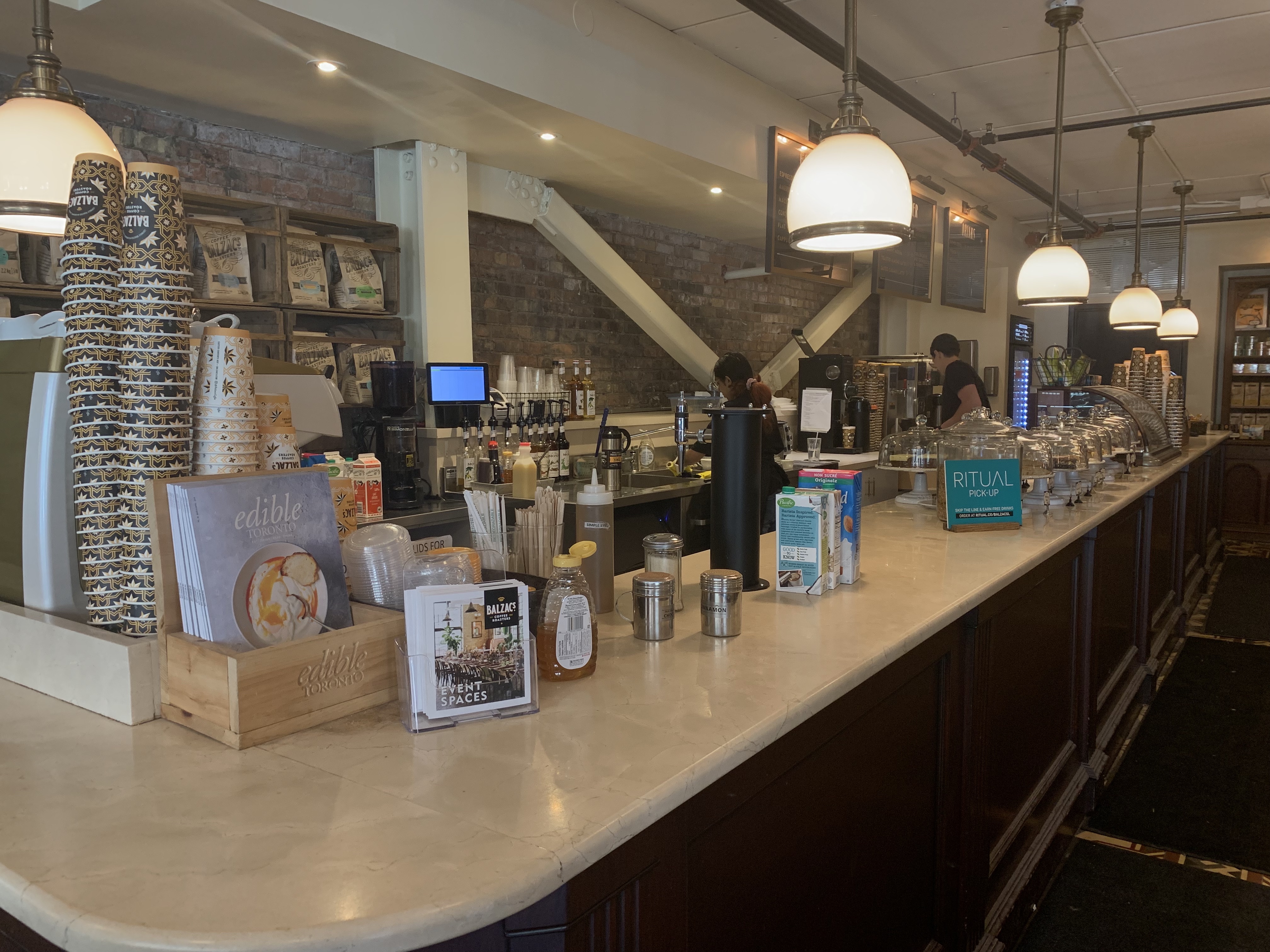 The Blends
We try three blends: Atwood, Las Rosas, and a top secret up-and-coming release. Will prepares the coffee using a technique called coffee cupping. Simply put, coffee cupping is the practice for tasting and noticing the aromas in the coffee.
To best taste the coffee and get a sense of all the flavours, you have to slurp it. My slurping skills were sub par to begin with, but I start to get the hang of it. My colleague takes it like a seasoned pro. Will is impressive with his slurping skills, clearly (he even said he was toning it down as to not disturb the patrons in the cafe).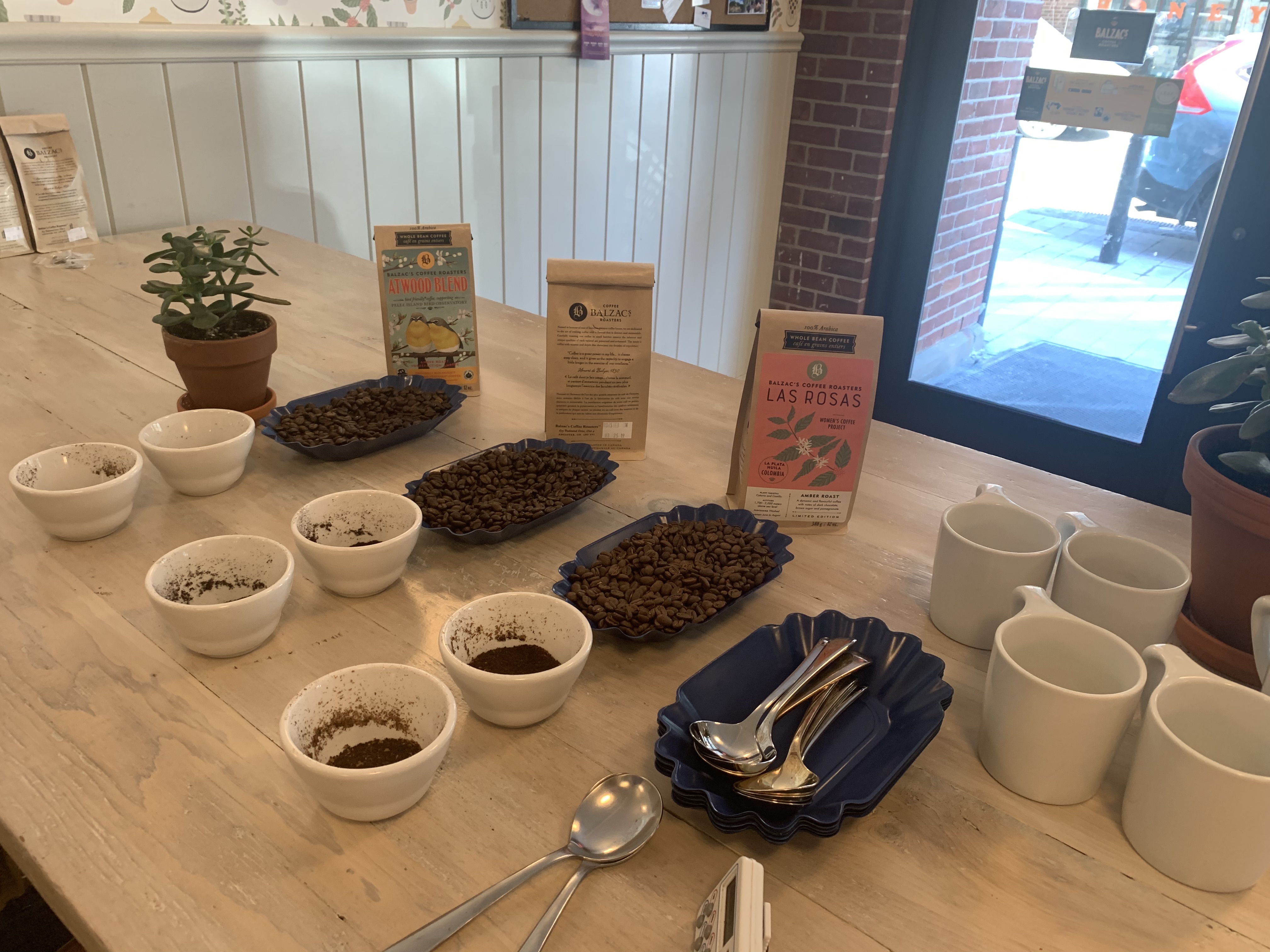 Atwood
The Atwood Blend has a super rare certification: it's certified bird friendly. I didn't even know such a thing existed! This organic blend has hints of caramel and cocoa, which came through nicely after a big sip. Partnering with bird lover, Margaret Atwood, $1.00 of the proceeds from each bag sold is donated to the Pelee Island Bird Observatory.
Las Rosas
Las Rosas is a unique blend because it not only is a delightful amber roast with hints of dark chocolate, brown sugar and pomegranate, but has been produced by a women's only coop of over 350 women. This social project comes from one of Balzac's importers and they are very invested in the project. Speaking of which, 65-70% of the staff at Balzac's itself is women. Now that's some serious empowerment!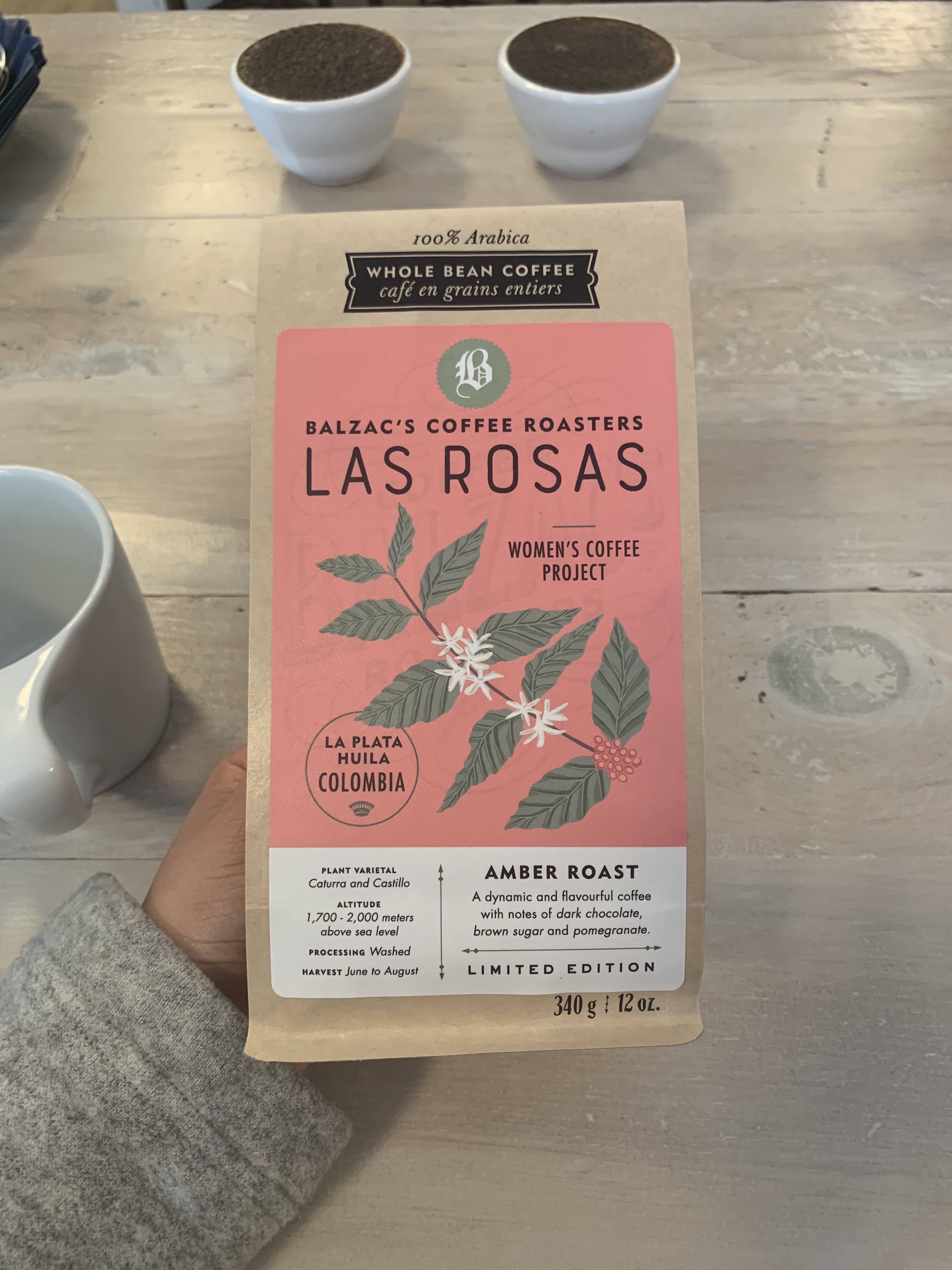 The president and founder of the company is also a woman: Diana Olsen. She came and greeted us during our tasting and it was great to meet the face behind such an inspiring company. Here is Balzac's origin story from their website:
"While earning a university degree in French literature, Diana Olsen, President and Founder of Balzac's, discovered a kindred spirit in Monsieur Balzac and his genuine passion for coffee. Upon graduating, she immersed herself in authentic French culture, spending a year and a half in France. Passing many enchanting afternoons in the Grand cafés of Paris, Ms. Olsen was inspired to bring this sophisticated celebration of coffee and social tradition home to Canada.
San Francisco was her next stop in 1993, to learn the craft of coffee roasting and bean selection at the West Coast Specialty Coffee Training Institute. In 1996, the first Balzac's café was opened in Stratford, Ontario. Today, Diana oversees all aspects of café operations and coffee roasting from the Balzac's Roastery in Ancaster, Ontario."
The New Release
The top secret blend is super tasty but that's all we can say about it for now…
This coffee tasting exceeded our expectations, and I had no idea about all the factors that went in to tasting it. Will gave us a solid foundation in a coffee education. Balzac's Coffee Roasters is truly doing groundbreaking work in the coffee world with their passion for coffee and the way it's consumed. Plus, their social conscious truly makes the company one-of-a-kind.   
Read more:
Wine Tasting 101 (Part Two)
Where to Find Hot Winter Themed Drinks in Toronto