Reading Time:

3

minutes
When I think about pub crawls, I think about the days when I was at university in Vancouver. I went on too many grimy party busses to some clubs on Granville Street. I haven't been on a pub crawl in over a decade. Then, I was invited to the BACARDI Holiday Parranda, and finally got to see what an actual classy pub crawl looked like.
As I walk through the door to the club's first location, Goldie, I am handed an "Ugly Christmas" sweater designed with the Bacardi logo, some bats and palm trees. The organizers told us that sweater would be "our ticket" into the venues. I must say, that was a cool touch. It made me feel like I was part of a group. I will also be getting cozy in that sweater all winter, so thanks for that.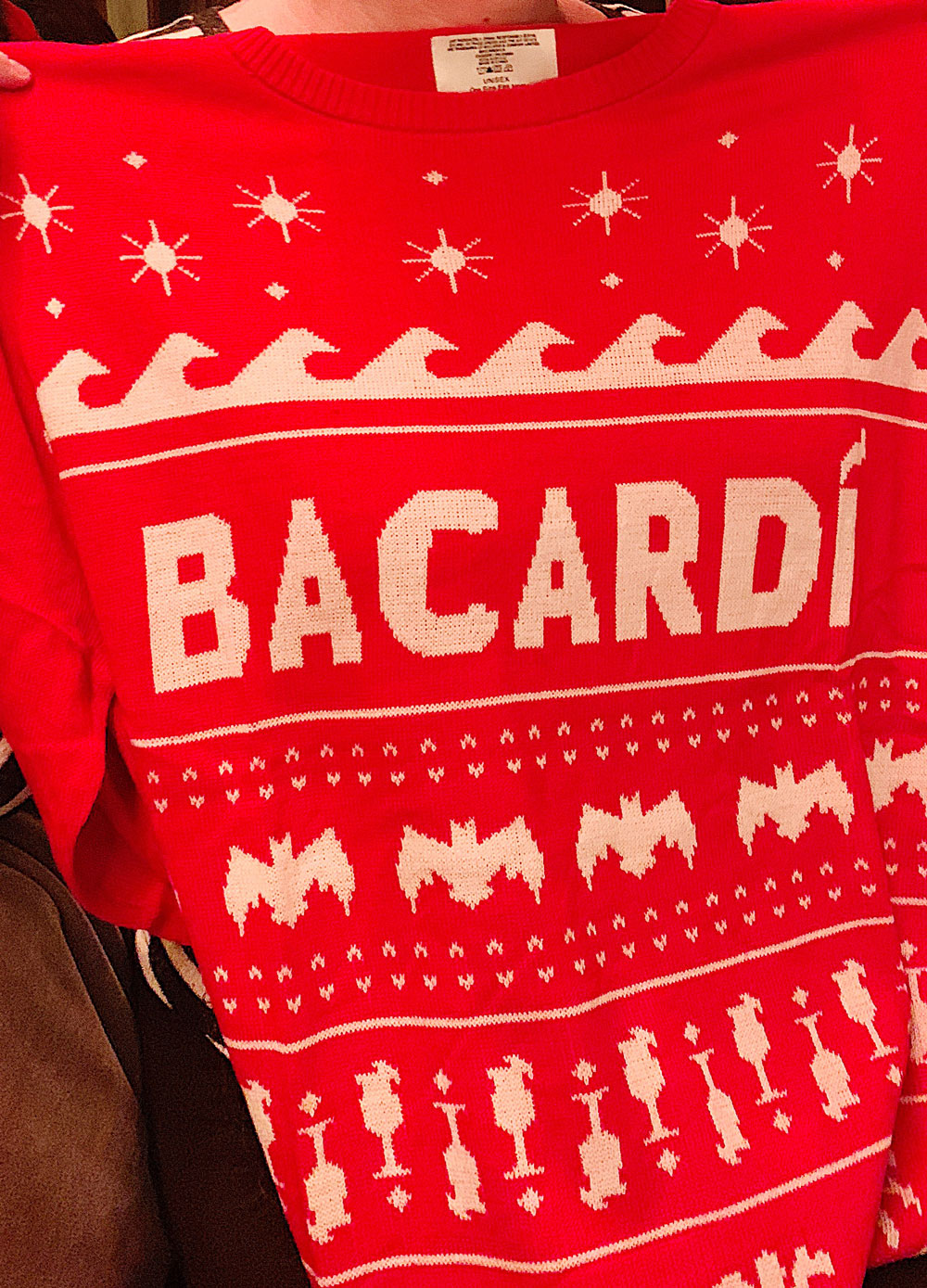 That Parranda Feeling
Walking up the steps, there is a beautiful, modern room with winter themed rum drinks on the bar. In addition, there are tables set up strategically for a rum tasting. They offer a winter drink. It's kind of like a spin on eggnog with a Caribbean twist, using instead coconut cream and Bacardi's ten-year aged rum. They also have Latin inspired eats, including a delicious sandwich.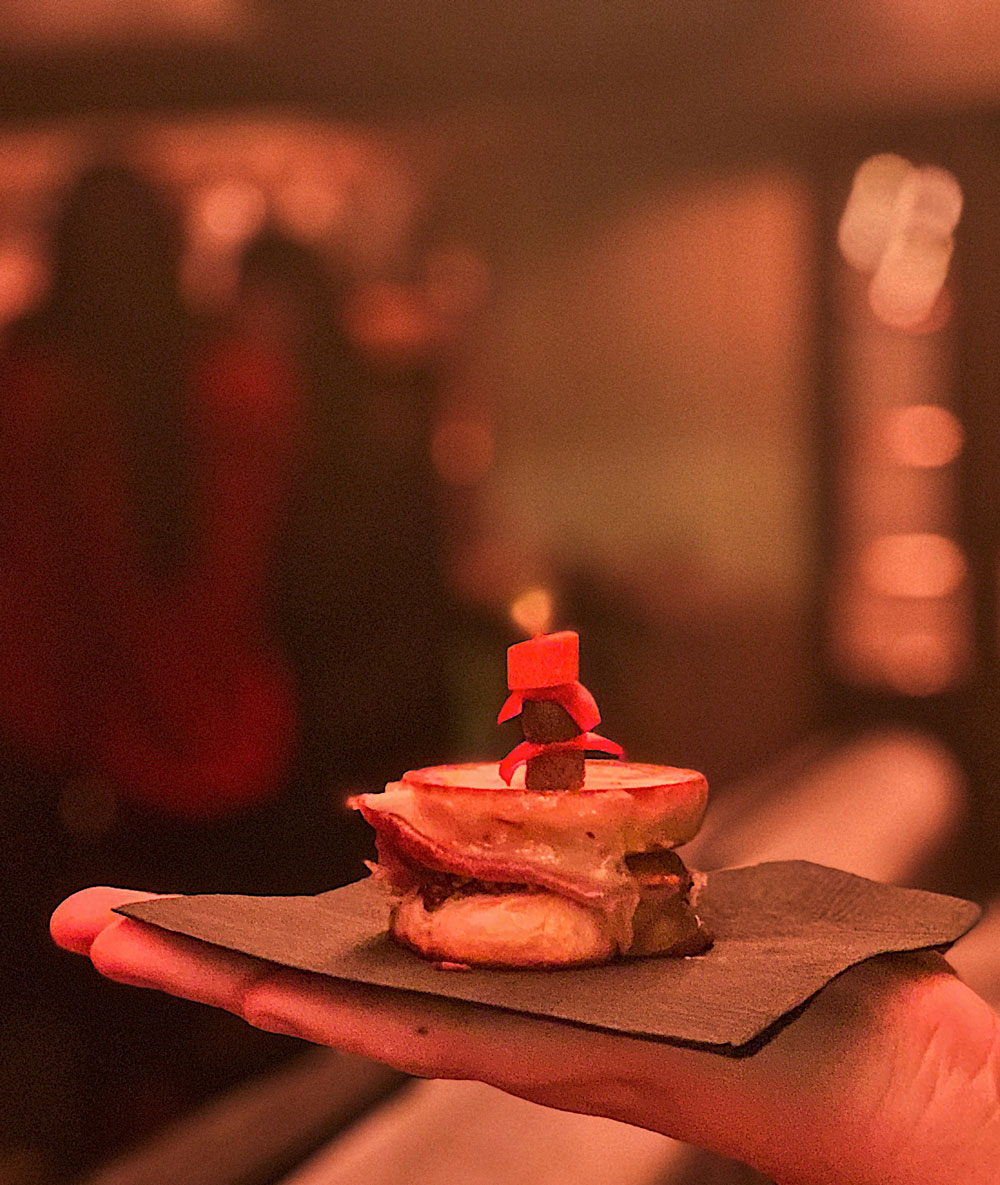 When the time comes for the rum tasting, a Bacardi rep rocking the coolest hat ever explains the meaning behind Parranda and its significance in Puerto Rican culture.
He says that a parranda is a party where friends gather, and where some friends surprise each other, and move throughout different locations. There's lots of singing and instruments played liked guitarras, tamboriles, güiro maracas, or palitos. He explains how they set up the room at Goldie so that you could walk easily to the other locations, making it feel like you were in your very own Parranda. We try the three types of rum barrel-aged in the Caribbean sun: Cuatro (4 years aged), Ocho (8 years), and Diez (10 years). Everyone at our table agrees that Ocho is the best one.
Is it cocktail hour yet? Check out our post on the Pisco Sour.
A Special Guest
As we venture to the next location, Baro, there's an amazing band playing festive music. There are delicious Latin eats being passed around. There's also a special appearance by non other than SANTA. He is holding a candy cane that is the size of a literal full-sized cane, and hands us Christmas crackers. He tells us to keep the numbers inside them for a surprise at our next location.
On our way to the next stop, the group starts belting "Feliz Navidad" at their top of their lungs in the street. Everyone is definitely getting into the holiday spirit at that point. We wind down at Petty Cash with a delicious cranberry lime drink using the Quattro. There is a stack of sparkly green and gold presents under the tree. With our numbers, each person gets a bottle of Bacardi to take home with them.
From what we now know about parrandas, I think the event nails the theme. I never thought I was much of a rum person, but those bottles of aged Bacardi are truly something special. I will be making eggnog cocktails all winter with my very own bottle of Diez.