Reading Time:

2

minutes
When avocados meet bread, great things happen. Avocado toast is simplicity at its finest, yet still refined. The avocado fascination continues – this versatile fruit packs in all your healthy fats while adding that certain "je ne sais quoi" to any meal.
There's no doubt: avocado has become a staple for the millennial diet. 
This new Avocado Toast recipe requires one simple addition: an egg. This recipe is sure to impress any advocate of the avocado!
This simple dish requires minimal ingredients and from start to finish, makes a great breakfast or afternoon snack, and should take about 7 minutes to prepare. This recipe is designed for one person but if you're cooking for others, you can definitely double or triple it.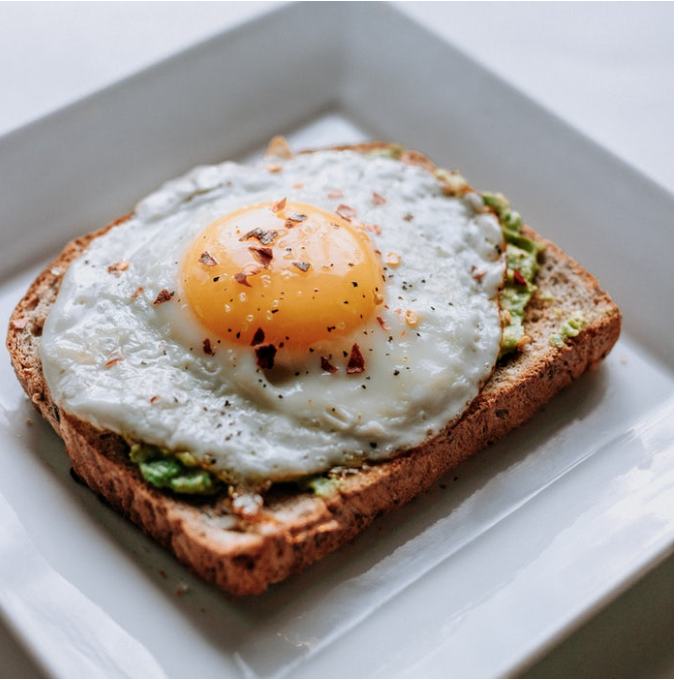 You will need the following ingredients:
1 pan

Spatula

2 eggs

2 slices of bread (sourdough or multigrain)

1 avocado

Salt and pepper to taste

Alfalfa sprouts (if you're feeling fancy)

Cherry tomatoes (cut in 1/2 or 1/4)

Tsp of cooking oil (olive, canola, butter or whichever oil you prefer)
Instructions:
Turn your stove on to low-medium heat, crack both eggs and cook until the whites of the eggs are solid, but the yolk is still runny. This process will take no longer than 2-2 1/2 minutes.

While the eggs are cooking, toast your two slices of bread and smash your avocado. Take a knife and slice the avocados down the middle, remove the pit and take a fork and smash the avocados. Once that's finished, spread the smashed avocado on your pieces of toast.
Slice your cherry tomatoes and add any extra garnish you want.
Once your eggs are finished cooking, take your spatula and remove the eggs from the pan. Place the sunny side up eggs on your avocado toast.
If you're feeling it, you can add salt and pepper to taste as well as sliced tomatoes and alfalfa sprouts on top.
The finished product is scrumptious avocado 
Note:
A lot of the fat in this recipe comes from the avocado and eggs. If you're looking to make this meal more fat-conscious, as an alternative, you can use only egg whites and turn it into a scramble.
Add the egg whites to your pan as usual and scramble them. Place the egg whites on the smashed avocado spread as you usually would. Add the extra vegetables and garnish as you see fit.
Read more:
Fool-Proof Breakfast Sandwich Recipes
Waldorf Salad with Icewine Vinaigrette