Reading Time:

3

minutes
As a contemporary artist born and raised in Toronto, Amey Lai has taken the art world by storm with bold paintings that command attention. Her use of colour and texture create a sense of luxuriousness. She is continually refining her work, but bold colours always make a profound statement.
The colour gold is often seen in her art. She embraces its importance of illuminating and enhancing everything around it – similar to the sun. Other parts of nature also tie into her work. Using resin, she creates a look resembling the purity of water and its cleansing abilities. Also, her work reflects light which draws her audience to her paintings.
Amey recently just participated in the Artist's Project, which took place on February 21-24, 2019 at the Better Living Centre in Toronto. The show featured artists with works that span across 14 different mediums.
We chatted with Amey about her creative process, mystical moods, her piece called Indigo, and wanting to pick Mark Ryden's brain.
Tell me a bit about your background. 
Born and raised in Toronto, graduated from Ontario College of Art and Design.
Describe your creative process in one sentence.
Inspired by nature, fashion, textiles, travel and interior design.
What was your last unexpected source of inspiration?
Tarot Cards! They evoke a mystical mood that inspired certain colour palettes.
How do you know when a piece is finished? 
Sometimes when I evaluate a piece I instinctively know it's done. This is probably one of my stronger attributes, knowing when nothing more can be done to improve the work. But once in a blue moon I will have a piece that will sit in the studio for months cause I can't decided if it's finished yet. I call those my headaches.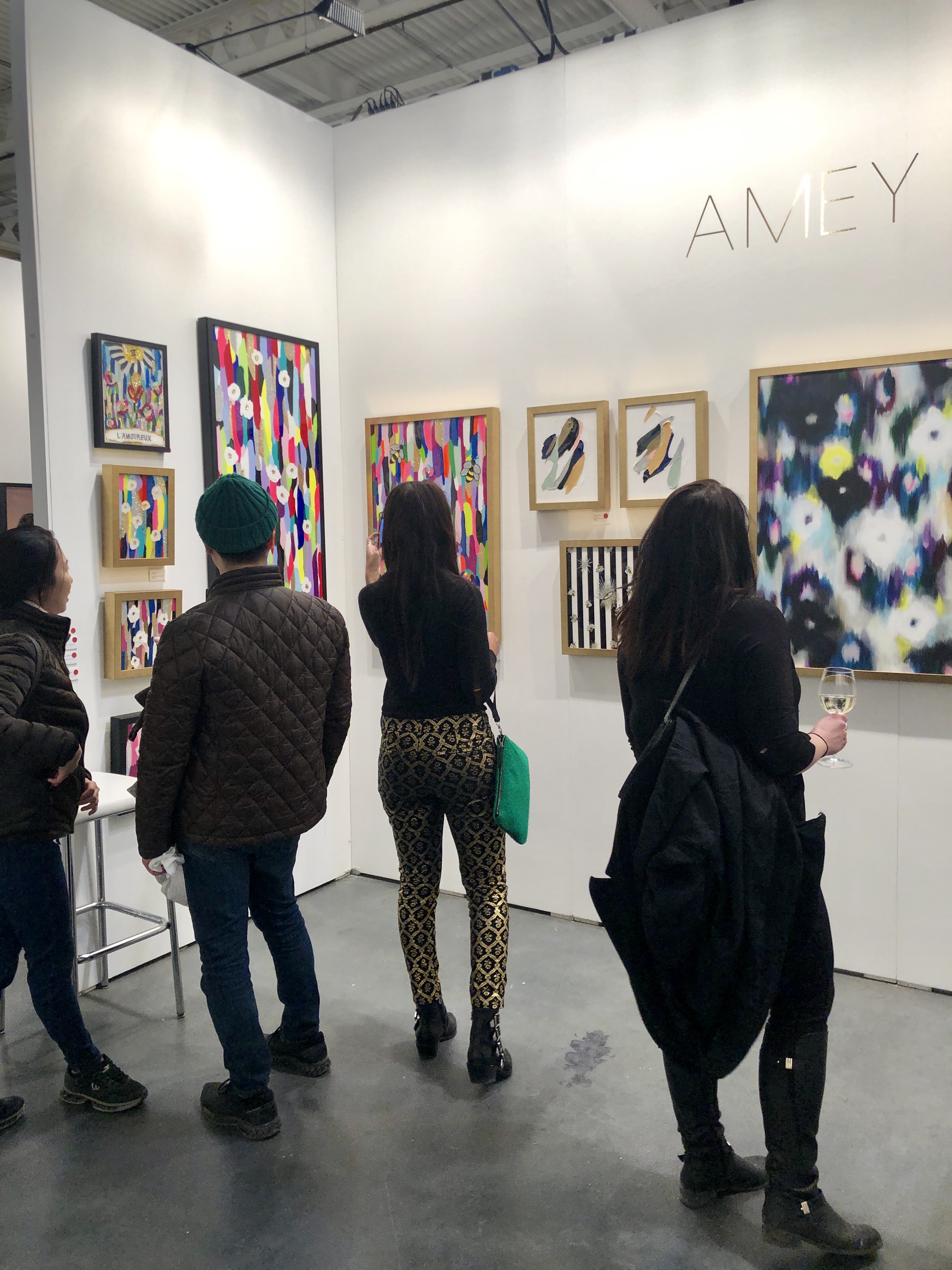 What future projects do you want to take on?
I've met so many inspirational artists that I would love to collaborate with. Through my travels, I also have collected so many images that inspire, pushing myself to explore new concepts and ideas.
Tell me about the piece of art that made the biggest impact on you.
Around 7 years ago, I created a piece that became the core of my painting style, it was all about delving into bold colours and strong brush strokes. I feel that it really connected with people.
What's your favourite piece you've created?
I'm pretty attached to most of my paintings, but recently it's one I painted for The Artist Project. It's called Indigo – I'm really happy with the tones and floral imagery.
I was scrolling through your insta and noticed you use a lot of bright colours and bold patterns. What are your biggest sources of inspiration?
I love looking at interior design work, textiles, fashion, photographs of my travels.
How did you get involved with the Artist Project?
I did my first show in 2012, a friend told be about Artist Project and suggested I should apply. I was so nervous, I never showed my work before. And to my surprise, I even got awarded "People's Choice Award." The rest is history – I have been exhibiting for the past 7 years.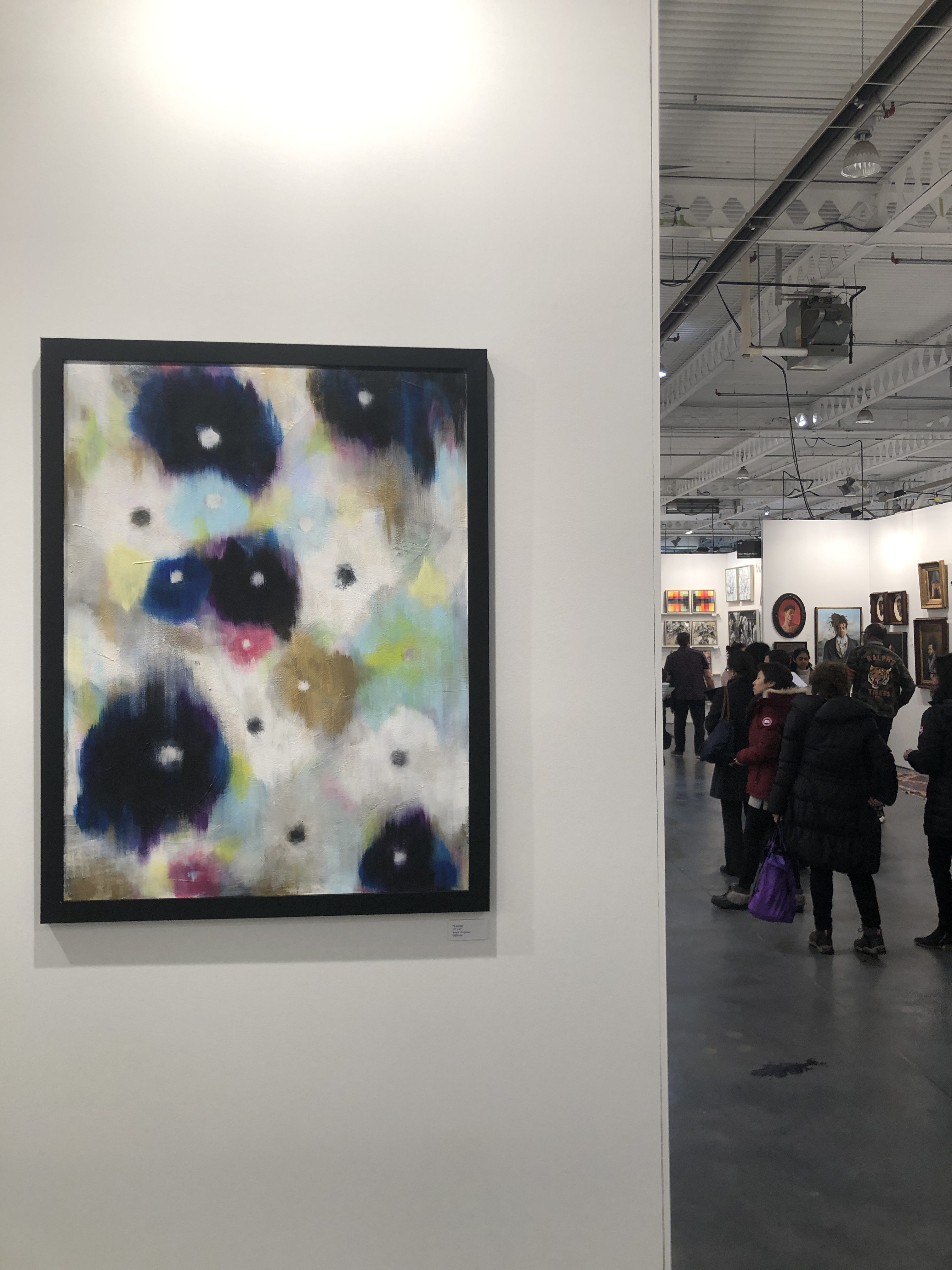 Who would you want to meet, living or dead, at a dinner party?
Mark Ryden. He ushered in a new genre of painting, "Pop Surrealism." Super inspirational work, I want to pick his brain!
Your favourite material to work with?
Right now, it's glitter! Glitter on everything.
Catch Amey at Her Next Upcoming Event:
Petroff Gallery: Celebrating Our Women Artists
1016 Eglinton Ave W, Toronto
March 1- 31, 2019
Read more: