Reading Time:

5

minutes
While College Basketball is only now reaching the Sweet 16 stage of the March Madness tournament, DINE's Fast Food Burger tournament has already come to a close. Hundreds of people have voted and we are ready to share the results. Let's first re-familiarize ourselves with the pairings:
Sweet 16:
In-N-Out Double Double (1) vs.
Fuddruckers The Original Fudds (16)
Shake Shack ShackBurger (2) vs.
White Castle Slider (15)
Mc Donald's Big Mac (3) vs.
Culver's Butterburger (14)
Whataburger Original Whataburger (4) vs.
Sonic Cheeseburger (13)
Five Guys Hamburger (5) vs.
Carl's Jr. Original Six Dollar Burger (12)
Fatburger Burger (6) vs.
Red Robin Whiskey River BBQ Burger (11)
Smashburger Classic Smash (7) vs. 
Steak n' Shake Double n' Cheese Steakburger (10)
Burger King Whopper (8) vs. 
Wendy's Baconator (9)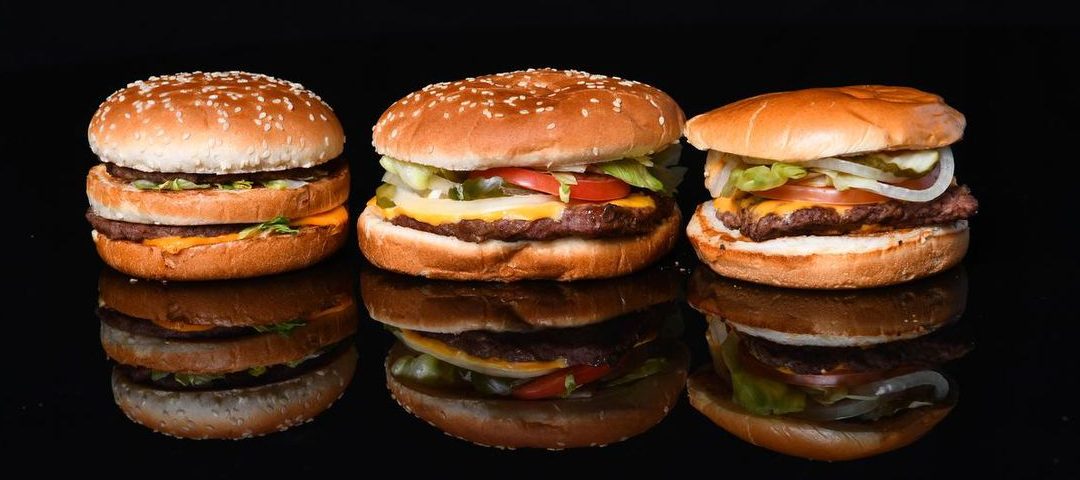 What Happened?
In the NCAA March Madness Tournament, there is usually a Cinderella story. Meaning a low-seeded team making a run and eliminating high-ranked teams. Our fast food burger tournament was no different. While the top 3 seeds all defeated their competition soundly (over 80% preference), the 4-seed Whataburger fell to a surprising challenger. 62% of our voters prefer Sonic's Cheeseburger. We think Texas, the birthplace of Whataburger, will not stand for this.
But Sonic was far from the only upset in the first round: The Baconator defeated the mighty Whopper, Red Robin's Whiskey River BBQ Burger upset the popular Fatburger, and Steak n' Shake triumphed over Smashburger. The margin was very similar in all of these battles, with the underdog winning around 54% of the votes. In all the remaining pairings, the favourite took the cake.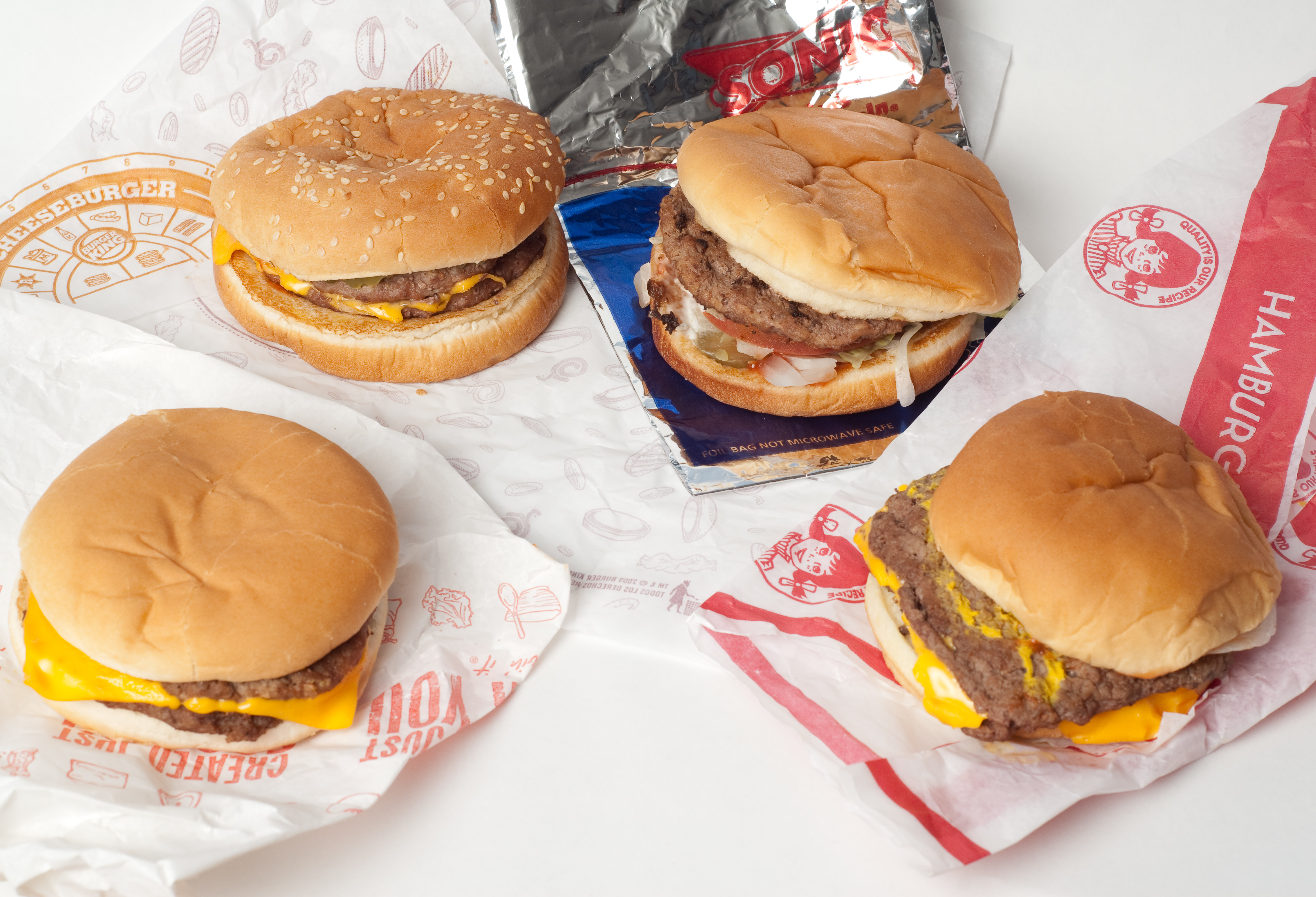 Elite Eight
This left us with the following pairings in the Elite Eight round:
In-N-Out Double Double (1) vs.
Wendy's Baconator (9)
Shake Shack ShackBurger (2) vs.
Steak n' Shake Double n' Cheese Steakburger (10)
Mc Donald's Big Mac (3) vs.
Red Robin Whiskey River BBQ Burger (11)
Five Guys Hamburger (5) vs.
Sonic Cheeseburger (13)
What Happened?
The problem with Cinderella Story teams is that after a first upset they usually have to contend with even harder competition down the line. The only burger, who according to the bracket's seeding had an easier opponent in the Elite Eight round, was Sonic's Cheeseburger. It had to face-off against the hamburger from Five Guys. As it turned out, that was not an advantage at all. The Five Guys Hamburger thrashed Sonic's offering with 92-8% of the vote. The other pairings also ended with convincing wins for the favourites.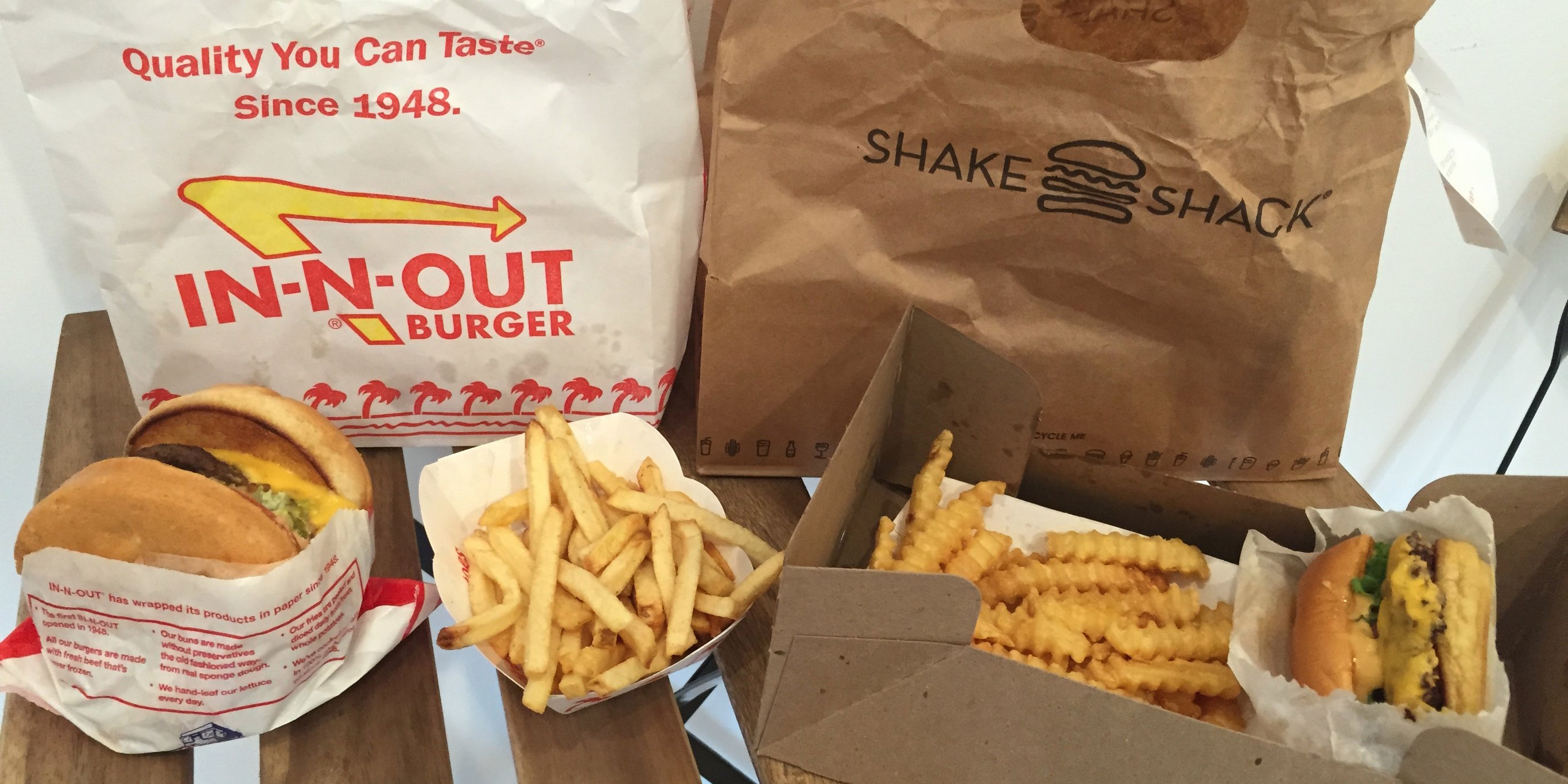 Final Four
This led us to the following semi-finals:
In-N-Out Double Double (1) vs.
Five Guys Hamburger (5)

Shake Shack ShackBurger (2) vs.
Mc Donald's Big Mac (3)

What Happened?
When we started this process, we thought that everybody is going to have fun, but that it is inevitable to have a final between Shake Shack and In-N-Out. BUT THIS IS MARCH MADNESS, BABY! It wasn't even close: 68% of our voters prefer Five Guys over In-N-Out. Now, there could have a number of reasons. A segment of the people might never had the chance to taste the mostly California-based In-N-Out. Maybe our voters are after a meal rather than a snack, with Five Guys offering a more substantial sandwich. Price didn't seem to sway voters either with Five Guys clocking in at almost double the price of the Double-Double.
On the other side of the bracket, there was nearly an upset too. In the direct head-to-head the BigMac defeated the ShackBurger by a tiny margin. But, because the Shake Shack sandwich reached more semi-finals and finals in other head-to-heads it was able to narrowly snatch victory from the jaws of defeat.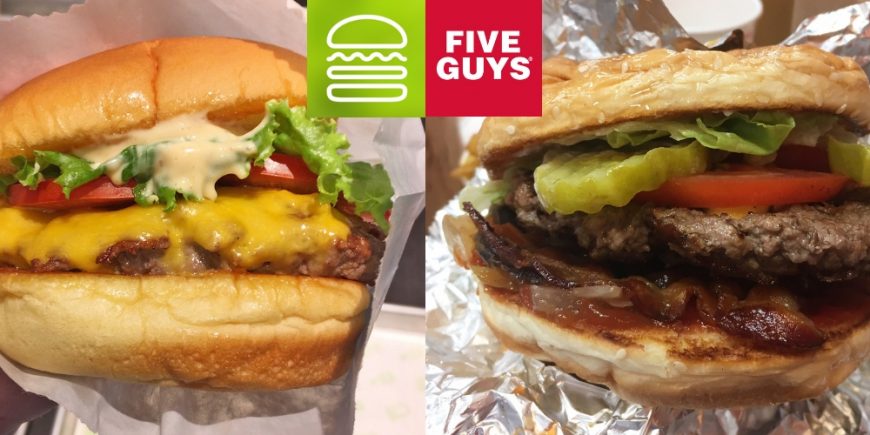 Championship Final
Shake Shack ShackBurger (2) vs.
Five Guys Hamburger (5)

Let's put this final into some proper context. We know basically everything about the Shackburger: The bun is a lightly toasted Martin's Potato Roll. It is often the bun of choice on the American East Coast for burgers and lobster rolls alike. The cheese is a slice of American cheese from a Wisconsin purveyor – nothing fancy. The patty is a custom blend, made by New York's meat purveyor of choice Pat LaFrieda. On the griddle or flattop the patty is cooked in the "smashburger method", where the patty gets pressed down to achieve crispy edges. It gets finished off with some proprietary ShackSauce (ketchup, mayo, mustard blend of sorts), a piece of Leaf lettuce and a slice of a Roma tomato.
With Five Guys, we know more about the company, than really the anatomy of their burgers. Four brothers were given the choice to either take their college funds and get more education or open a restaurant with their father. They all wanted the restaurant and thus, Five Guys was born. Their sesame buns are made by the company-owned bakery and the patties are a traditional 80/20 chuck blend. The rest is shrouded in a bit of mystery.
It's Time to Crown a Winner
This is what y'all have been waiting for. In a further upset, the Five Guys Hamburger emerged victorious from our Fast Food Burger Bracket. It wasn't close either… 86%(!) of our voters chose the Five Guys Hamburger of the ShackBurger. Why, you might ask? We don't exactly know. Five Guys has thousands of franchises across the world, compared to Shake Shack who only left their East Coast stronghold half a decade ago. Five Guys has also been around since the mid-1980s, while the first Shake Shack only opened in 2001. From a budget perspective there isn't much difference. If you're ready to spend $7 on a burger (no additional toppings), you can probably spend $8… It was a surprise to us, but we do not disagree with the result.
Thank you for everyone that participated and enjoy the rest of March Madness.
Sieh dir diesen Beitrag auf Instagram an
Read more: