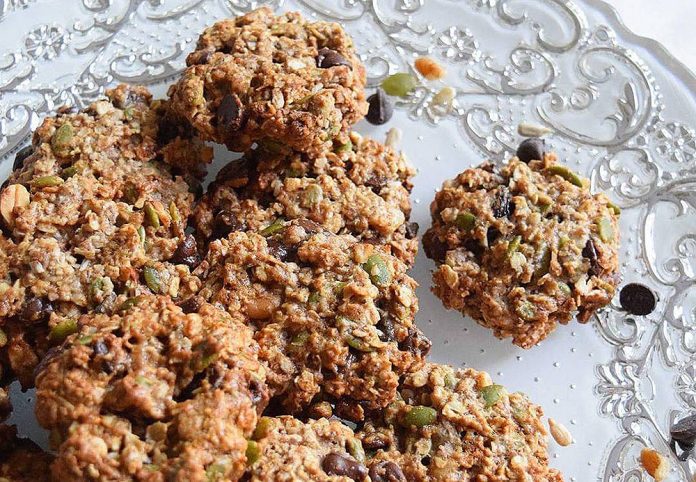 The leaves are turning and the wind is chilled. Before too long the holiday seasons will be upon us; recalling such sweet memories as spicy gingerbread, powdered sugar cookies, fluffy panettone, and a slew of freshly baked pies. But as winter approaches and the trees shake their branches bare, don't shy away from the cold weather, greet it with a smile of sweets and a mouthful of crumbs.
Think of how sweet it is… the cool crisp breath of Autumn singing its dying song to the gardens and the grass, while you are safely inside a kitchen humming with warmth…
… With wafting aromas. Twists of cinnamon and nutmeg mingling in the air. Warm tangs of toasted walnuts and sweet cranberries dancing about the kitchen. And an irresistible perfume of melting chocolate and brown sugar fused with vanilla floating under your nose.
The sight of a golden glow, the perfect bake on a perfect batch. A crumble of crushed nuts and cocoa kissed by the oven's heat.
Soft. Ooey. Gooey. Sweets. Melt in your mouth. Warm. Chewy. Chunky.
Cookies.
But not just any cookies. Cookies made with love – and an overabundance of delectable ingredients.
Preheat your ovens and pull out your mixing bowls. These sweet treats are a crowd-pleaser no matter the weather.
For the Love of Autumn Cookies
 Ingredients
1 cup organic all-purpose flour
1 cup organic rolled oats
¼ cup unsweetened almond milk
2 tbsp ground flaxseed
6-7 tbsp coconut oil, melted
½ cup brown sugar (or half brown half organic sugar)
½ tbsp pure vanilla extract
2-4 tbsp pure maple syrup (add to bind, and for flavour)
1 tsp baking soda
½ tsp ground ginger
1 tbsp cinnamon
½ tsp nutmeg
½ tsp sea salt
¼ cup sunflower seeds
¼ cup pumpkin seeds
¼ cup chopped walnuts
¼ cup chopped almonds
¼ cup shredded coconut
1/3 cup dried cranberries
¾ cup – 1 cup dark chocolate chips (if you don't have chips, you can chop a chocolate bar)
Directions
First…
Preheat your oven to 350F, and grab your cookie sheets (2 should be enough). Line them both with parchment paper, making sure no bits are peeking over the trays.
In a large bowl, throw in your flour, oats, brown sugar, sunflower seeds, pumpkin seeds, walnuts, almonds, coconut, baking soda, flaxseed, ginger, cinnamon, nutmeg and sea salt, and mix with a wooden spoon.
In a small bowl, mix in your almond milk, maple syrup and melted oil. Add this wet mixture to the dry large bowl. As you combine the ingredients and stir, you can throw in the dried cranberries and chocolate chunks. Make sure all ingredients are blended well.
Once the dough is blended, use a tablespoon to help you form even balls to fill the sheets. Press the balls down so they resemble tiny thick pancakes and place them about an inch apart (you don't want them to stick together as they bake).
Place them in the oven for 10-15 minutes, until the cookies are golden brown.
Once they are done, take them out and let them cool before removing them from the sheets so they don't break. When they are slightly cooled, take them out, and let them rest on a wire rack. Now pour yourself a glass of almond milk and enjoy! Bon Appetite!