Reading Time:

3

minutes
Oats are considered to be a superfood. Loaded with fiber, minerals, vitamins, and antioxidants. Overnight oats are an excellent option for those of us who aren't morning people or always find themselves pressed for time. Soaking oats overnight eliminates the need to cook them, and since they last up to five days, you can prep for the whole week. Here are 5 Fun Ways to Make Overnight Oats.
To start, here are a few tips when first creating overnight oats:
Do not use instant oats. Soaking them softens them up, and instant will get too soft.

Choose your favorite milk or whatever you find in your fridge to give your oats that creamy flavor. Play with the amount you use, add less for thicker oats, and a little more if you like them runny.

Chia seeds will give the final result a pudding-like texture

. They are not a necessity, but they are a great source of fiber, calcium, omega-3 fatty acids, and trace minerals like zinc and copper. They are also a complete protein, meaning they contain all nine of the essential amino acids our bodies require from our diet, which not all plant sources do.
Nut butter is a more healthy fat and protein to keep you feeling full longer, A great option if you want your oats more savory.

Maple syrup or honey can be drizzled on top if you like it sweet but isn't required.

Overnight Oats 5 Ways
The Base: 
The base is the foundation of your overnight oats. Combine all three, stirring to incorporate in your resealable jar of choice. While you can leave them overnight, they are ready to eat after two hours.
1/2 cup Rolled oats

2/3 cup Milk

1 Tablespoon Chia Seeds
The Toppings:
Toppings are supposed to be fast and easy, so there is no need to follow an exact recipe. You can make it as simple or complicated as you like for your overnight oats.
A ½ cup of your favorite fruit is a great option, but we have also included some ideas if you want to try something new. After mixing the base ingredients, sprinkle the toppings on top, so they don't get mushy and mix them in when you are ready to eat.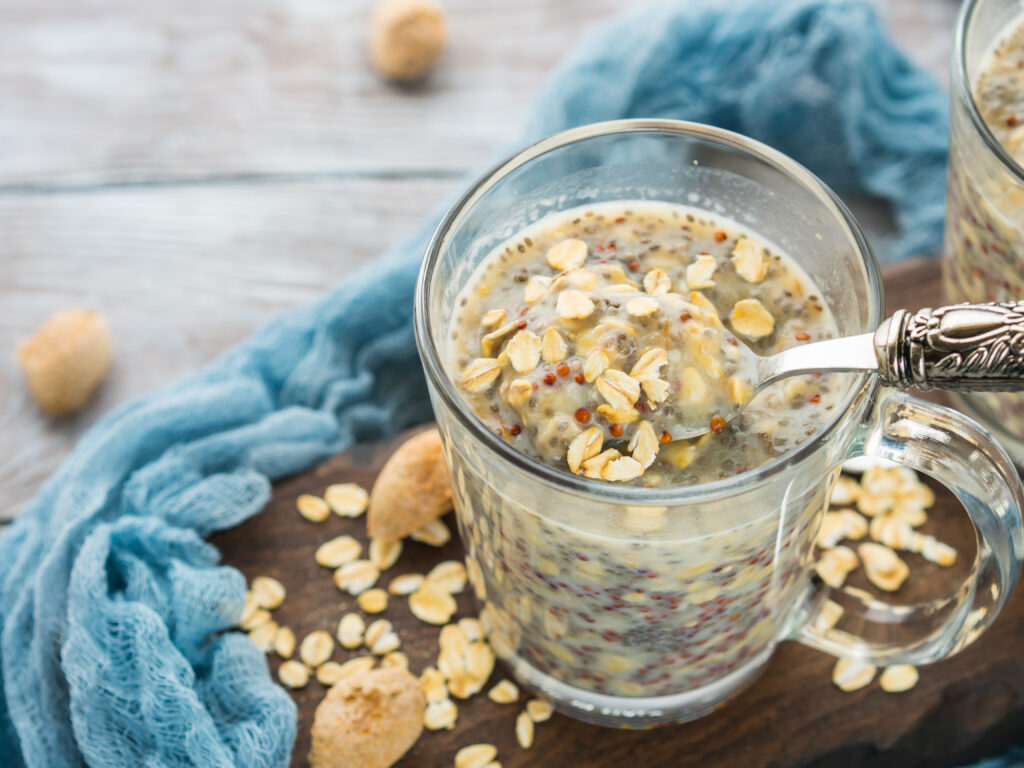 1.

Cocoa-nut
2 tbs Chopped almonds

1/4 cup Shredded or toasted flakes of coconut

1 tbs Dark chocolate chips – mini ones are great for this if you can find them!

Optional sweetener – 1 tsp Maple syrup or honey
2.

Banana Bread
1/2 Ripe banana, diced or sliced

2 tbsp Walnuts, chopped

1/2 tsp Cinnamon

Optional sweetener – 1 tsp Maple syrup or honey
3. Everybody Loves Parfait
Substitute ½ of the milk for equal parts Greek or coconut yogurt

1/2 cup fresh fruit of your choice, mixed berries are a favorite

1/4 cup Granola or Muesli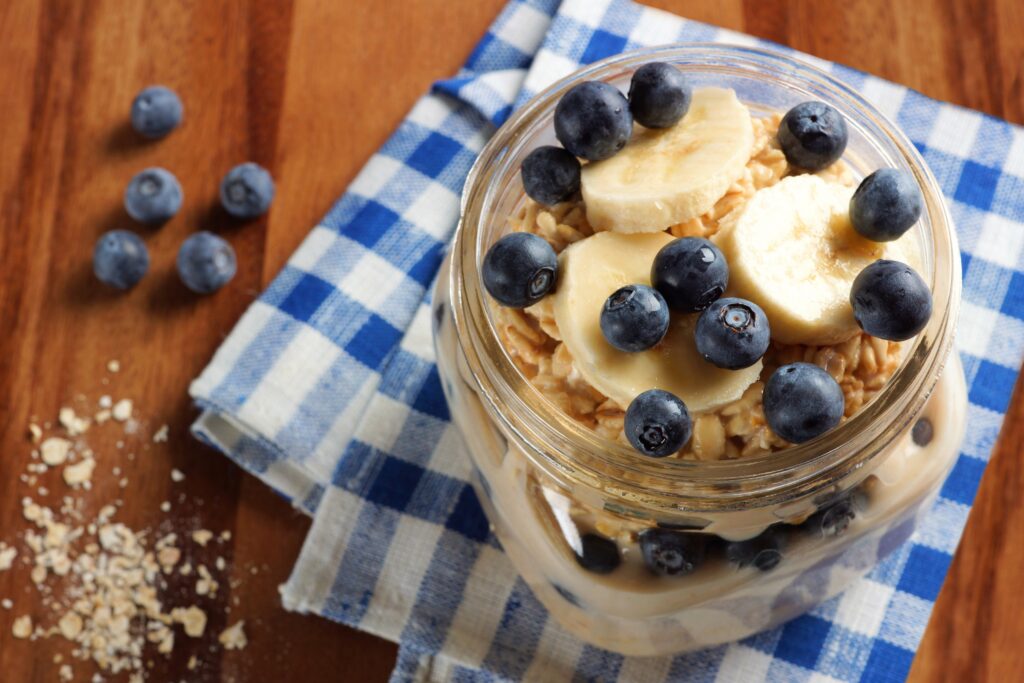 4. Savory Cheddar
Substitute ½ of the milk for equal parts plain Greek or coconut yogurt

¼ cup Shredded cheddar cheese, or 2 tbs of nutritional yeast for a no-dairy option!)

1 tbs fresh chopped chives

1 tbs fresh chopped dill

Dash of salt
5. Strawberry + Nutella
1/3 cup Strawberries, chopped

1 tbsp Nutella

1 tbsp chopped hazelnuts

Dash of salt
Read more: